This is the Tax Justice Network's blog entry to its 10th anniversary, taken from http://taxjustice.blogspot.co.uk/2012/11/happy-birthday-tax-justice-network.html
Tax Justice Network was founded in Florence on 9th November 2002. Today is our tenth anniversary. Happy Birthday TJN.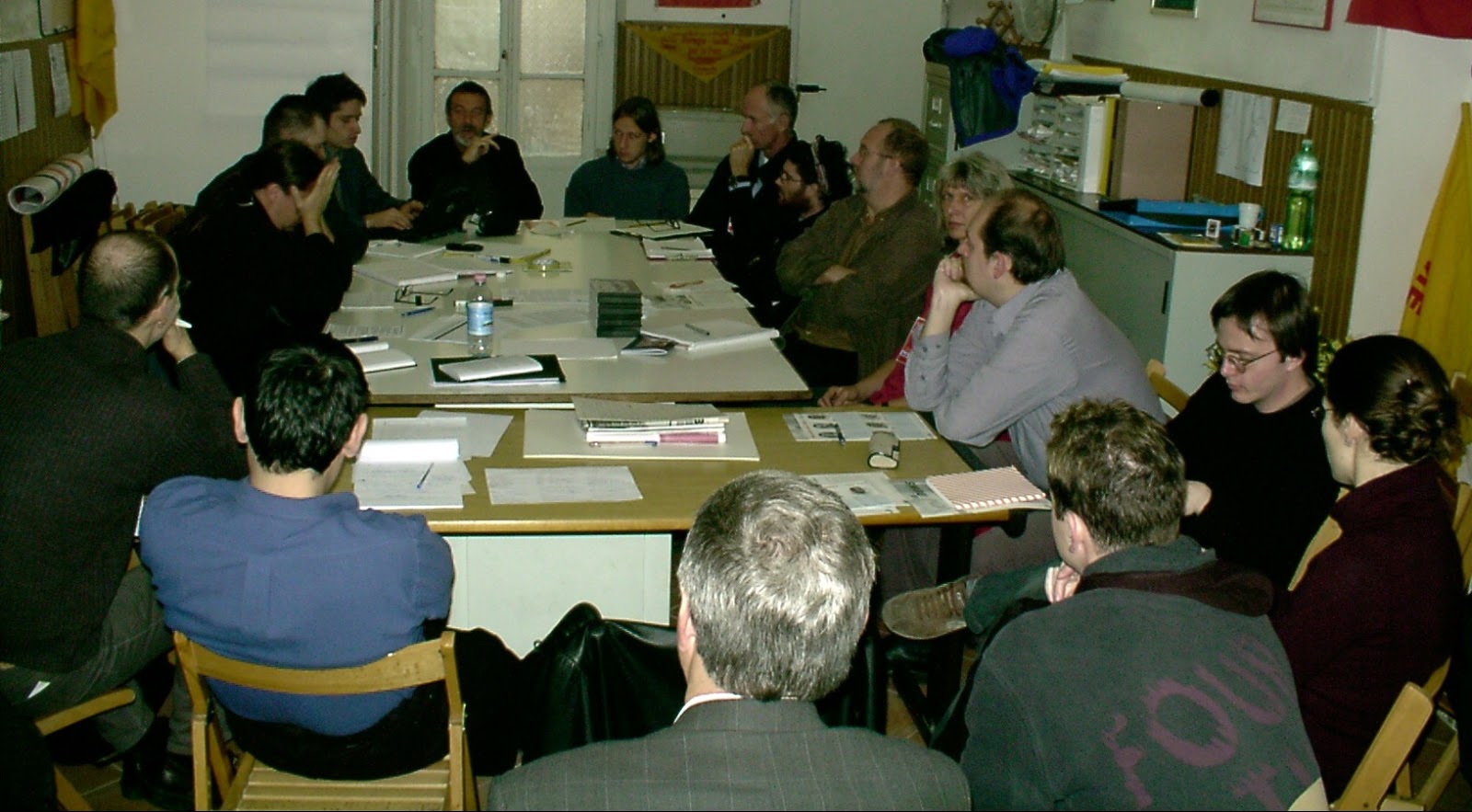 9th November 2002: Founder's Meeting in Florence, Italy
The Founder's Meeting followed two days of discussions at which researchers and activists from across Europe considered how to fight against tax havens and tax evasion, and agreed to build a European network (later a global network) to take the lead in campaigning against the cancer of tax havens. These seminars were convened by Sven Giegold (Attac Germany, now a Member of the European Parliament) and Bruno Gurtner (at that time senior economist of the Swiss Coalition of Development Organisations, and since 2006 the Chair of TJN's global board of directors).
For this blogger, the meeting in Florence was a turning point. I had been researching tax havens since the early 1980s, which had involved 14 years working offshore in the British tax haven of Jersey. I was convinced that tax havens were the root of much poverty and inequality, and was looking for the right moment to shift from research to activism. Florence was that moment.
Three years earlier, in 1999, Oxfam had approached me to advise on their seminal report on tax havens – Tax Havens: Releasing the Hidden Billions for Development. Oxfam's report had triggered interest around the world, leading many people to ask me what actions needed to be taken against tax havens. In August 2002, just months before the meetings in Florence, three activists from Jersey – Jean Andersson, Pat Lucas and Frank Norman (the latter now sadly deceased) – visited me at my home in Chesham, and over tea and cakes made a simple request: "Liberate Jersey from the grip of the offshore bankers." How could I refuse? This was the equivalent of Gandalf booting Bilbo out of his own front door: my life's Big Adventure was underway.
Things moved forwards at lightning speed in the weeks that followed tea and cakes with Jean, Pat and Frank. My long-standing friend Prem Sikka agreed to co-organise (under the joint banners of Attac Jersey, Attac Saint Malo, and the Association for Accountancy and Business Affairs), a conference on tax havens in Saint Helier. Prem also invited a chartered accountant called Richard Murphy to that conference. This was the first time I met Richard and, bizarrely, within minutes of meeting we were discussing the need for country level disclosure of multinational company accounts: the idea of Country-by-Country Reporting was born in Jersey, of all places.
The Jersey conference was followed by an event organised by Matti Kohonen of Attac UK at University College London, where activists from a variety of British organisations, most notably War on Want and what is now known as Stamp Out Poverty, agreed to launch a campaign to tackle tax havens. Days later a British delegation consisting of War on Want's Pete Coleman, Dr Mark Hampton (University of Surrey) and I, flew south to Florence to meet other European activists in Florence.
We were so rushed in our preparations that neither Mark or I had organised accommodation in Florence, which had been frightened by then Prime Minister Berlusconi into thinking that tens of thousands of dangerous, hooded troublemakers were descending on the city. Most of the hotels, pensiones, shops and cafes were closed and boarded up. Riot police and secret service were everywhere. The locals peered anxiously from behind their curtains, fearing the worst. Mark and I struggled to find somewhere to stay, but David Hillman came to our rescue and all was well. Thanks David.
Before arriving in Florence we had expected no more than a handful of people would attend the seminars convened by Bruno and Sven. Wrong. Dozen upon dozen came to the first seminar, titled "General Introduction into the Problematic of International Tax Evasion/Tax Competition/Tax Havens: Presentation and Critics of the Activities of the International Institutions (EU, OECD, UN, IWF)". Despite the unsnappy title and obvious language barriers, it was clear that we shared common understandings of how tax havens harm development. It was equally clear that there was an appetite to take action.
The second seminar, on Friday 8th November 2002, took a closer look at Europe's tax havens, including Austria, Belgium, Luxembourg, Switzerland and United Kingdom and mapped out the reform proposals coming from different experts and organisations in Europe. Once again, it was clear that – despite the OECD's politically motivated blacklisting of only small island tax havens in 2000 – we shared a common understanding that tax havenry involves some of Europe's most influential capitals.
By the time we met on the following day, in the tiny office of a local community activist group in central Florence (see photo above), we were ready to get started. Within hours we had agreed a name – Tax Justice Network – and the bare bones of what would become the Tax Justice Declaration and Manifesto. Pete Coleman and I agreed to prepare the first draft of these documents, and Andreas Missbach (Berne Declaration) offered a small pot of cash to create our website. TJN was born that day. Less than six months later we were formally launched at an event hosted at Britain's Houses of Parliament.
We have come a long way since then. What was initially a gesture of hope, has turned into a genuinely influential global movement.
Long live TJN!
John Christensen
Here is the full list of founders:
Josep Parramon Attac Andorra
Gerhard Totschnig Attac Austria
Oscar Torres Attac Catalunya
Anders Lund Attac Denmark
Raphael Calvelli Attac Florence
Jean-Luc Wingert Attac France
Pansu Gilles Attac France
Nycette Isnaro Attac France (Sarthe)
Jeannine Francoise Rouxin Attac France (Sarthe)
Astrid Kraus Attac Germany
Brigitte Henkel Attac Germany
Detlev von Larcher Attac Germany
Jacob von Recklinghausen Attac Germany
Michael Thomas Attac Leipzig (Germany)
Sven Giegold Attac Germany
Bernard Bouzon Attac Romans (France)
Rudy de Meyer 11.11.11, Belgium
John Christensen Association for Accountancy & Business Affairs
Andreas Missbach Berne Declaration
Zsusanna Kovacs Solidarity Youth Alternative (Hungary)
Gergely Czigany Solidarity Youth Alternative (Hungary)
Bruno Gurtner Swiss Coalition of Development Organisations
Peter Hofstetter Swiss Coalition of Development Organisations
Mark Hampton University of Surrey
Sèbastien Guex Université de Lausanne
Pete Coleman War on Want (UK)
David Hillman War on Want (UK)
Rene Schober individual