European discussions hardly reach many people, although they affect all citizens. With a new digital event format I would like to facilitate access and fuel the discussion about necessary changes in European politics. The idea is simple: Together with one or more speakers, I discuss current European issues via a webinar tool – and several hundred guests can be present, whether from their home sofa, the office or even on the road. And this is how it works: First, register for the "webinar" using the link below, follow the confirmation link sent by e-mail and then dial in at the appropriate time. From then on, everything is self-explanatory: The speaker or a presentation is displayed on the screen. Via the chat you can register word contributions or write them directly. And I as a moderator lead through the presentation and discussion.
Next Europe Calling:
Information about the next Europe Calling will be published here and will be announced via our newsletter.
---
All events will be recorded for review Videos of all Europe Callings will also be available for viewing afterwards. Just click on the title below.
Past events: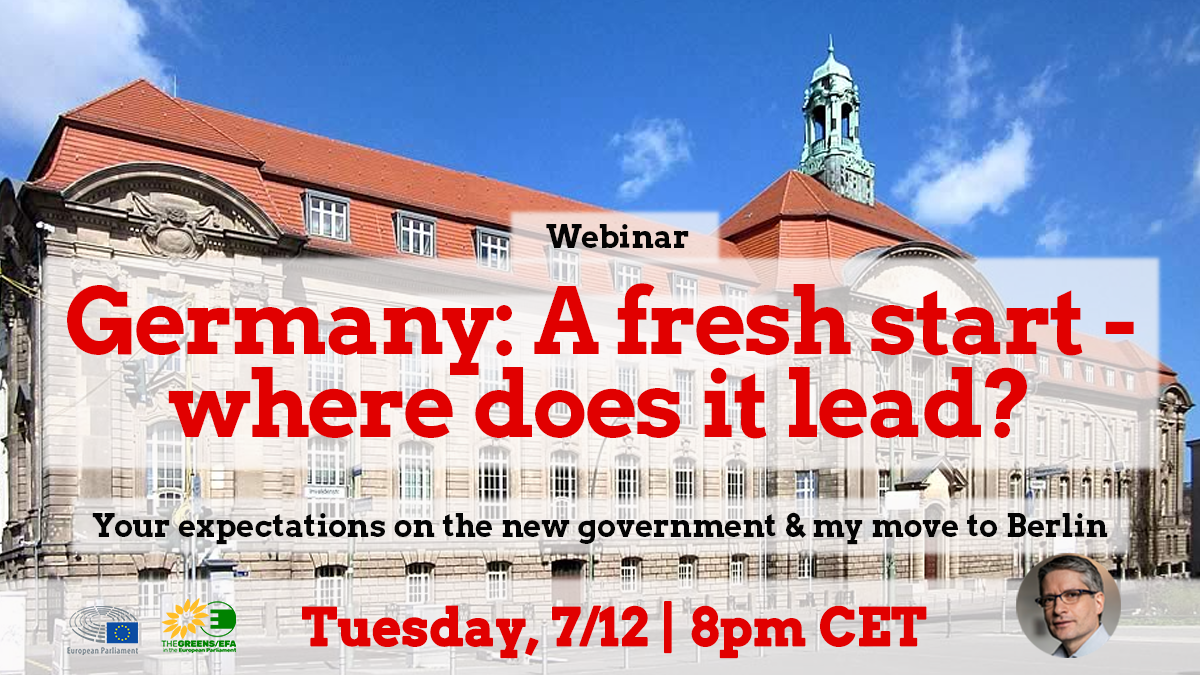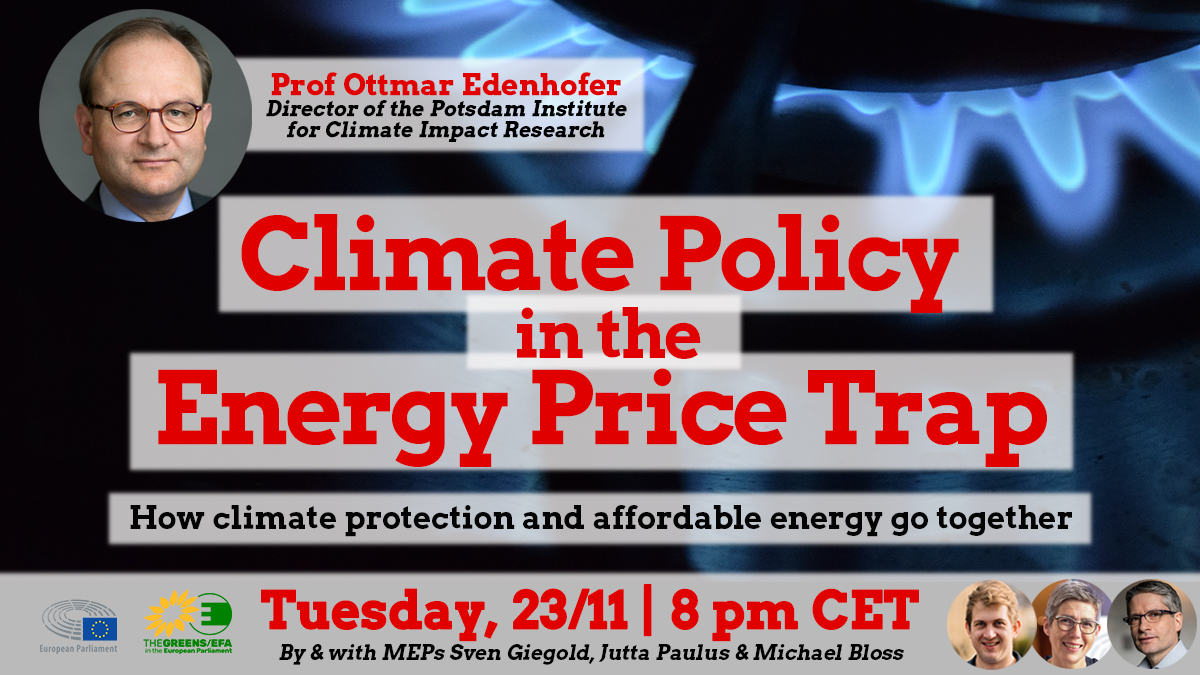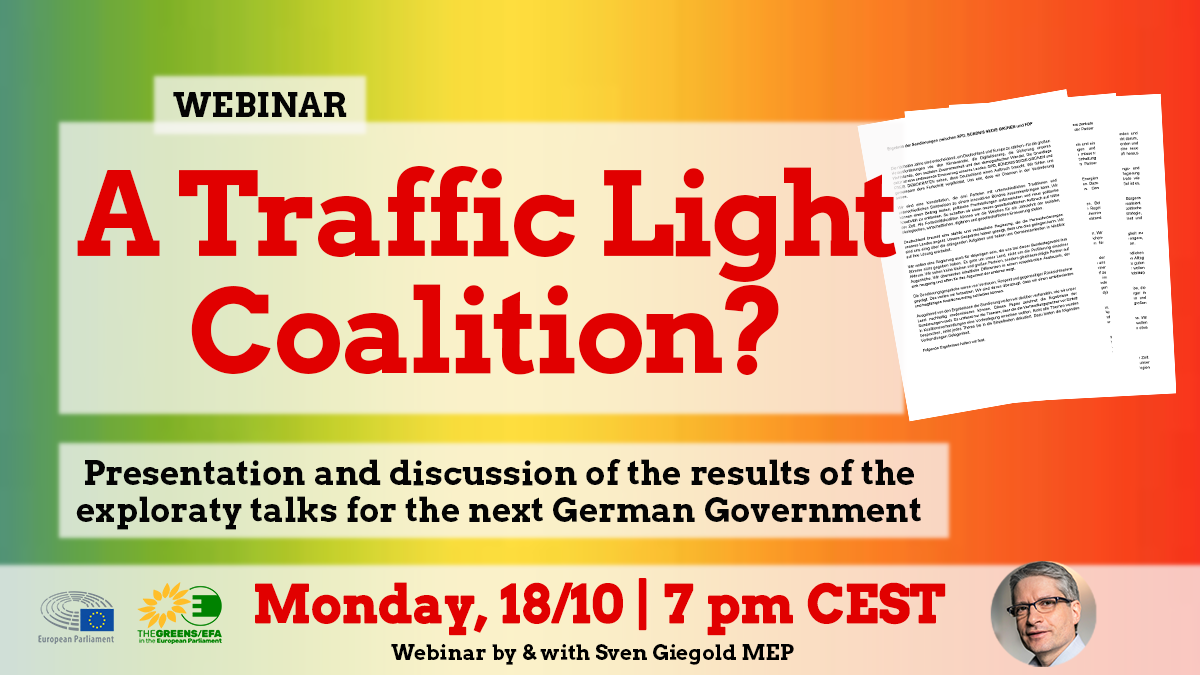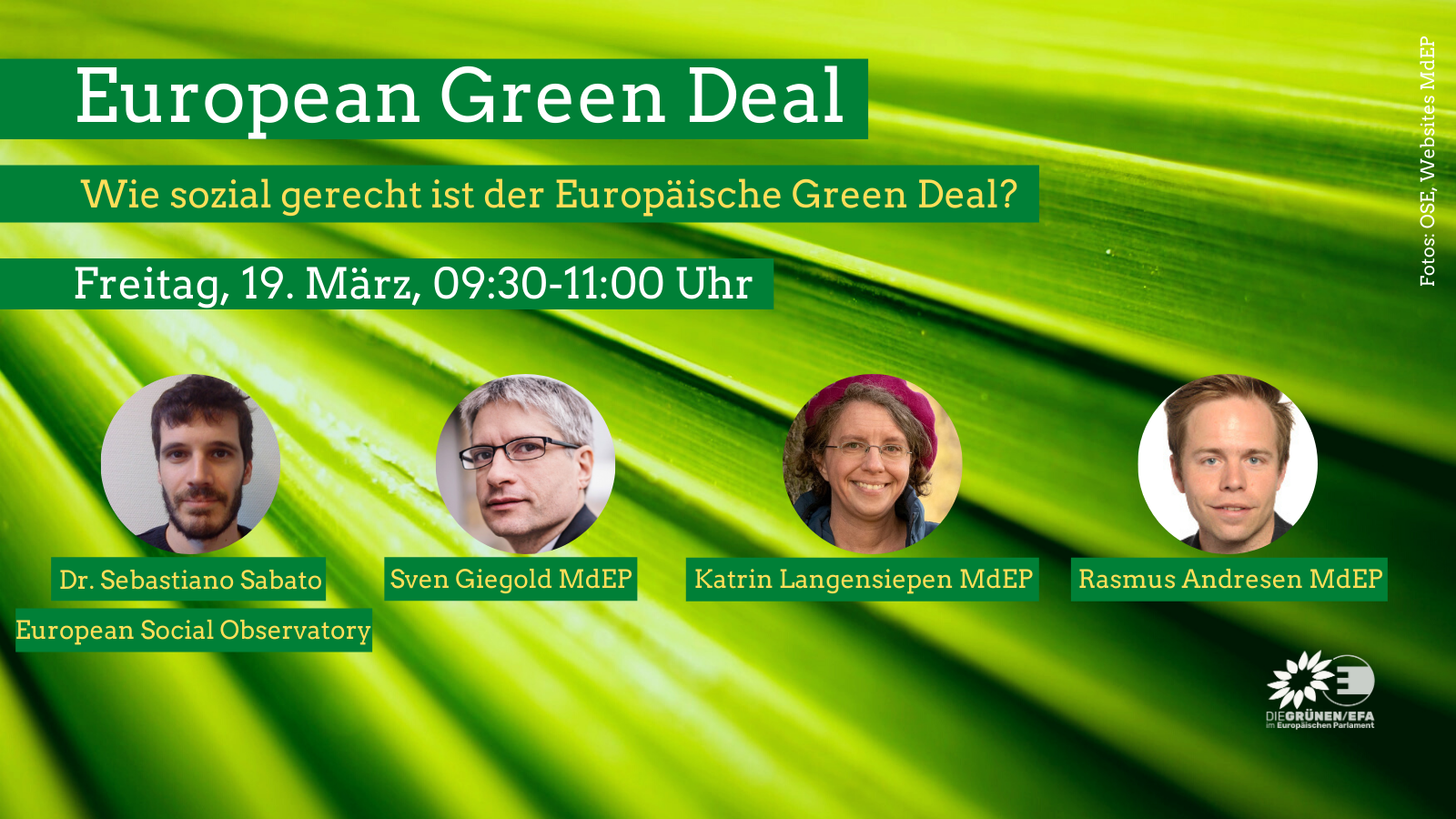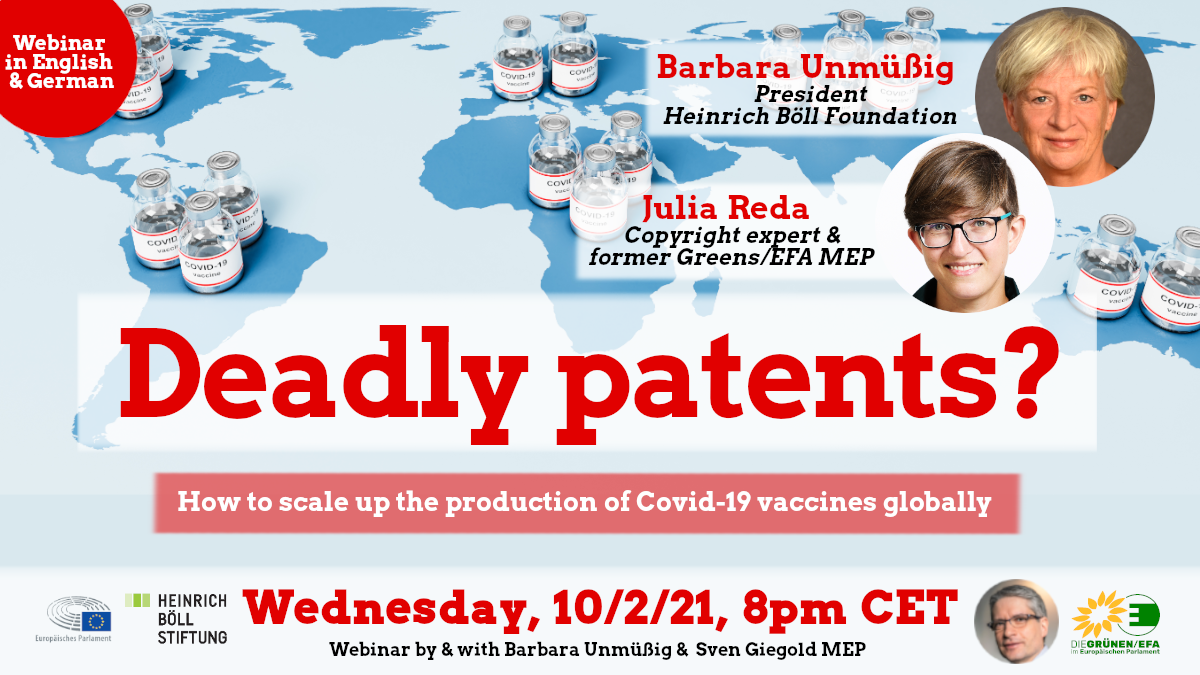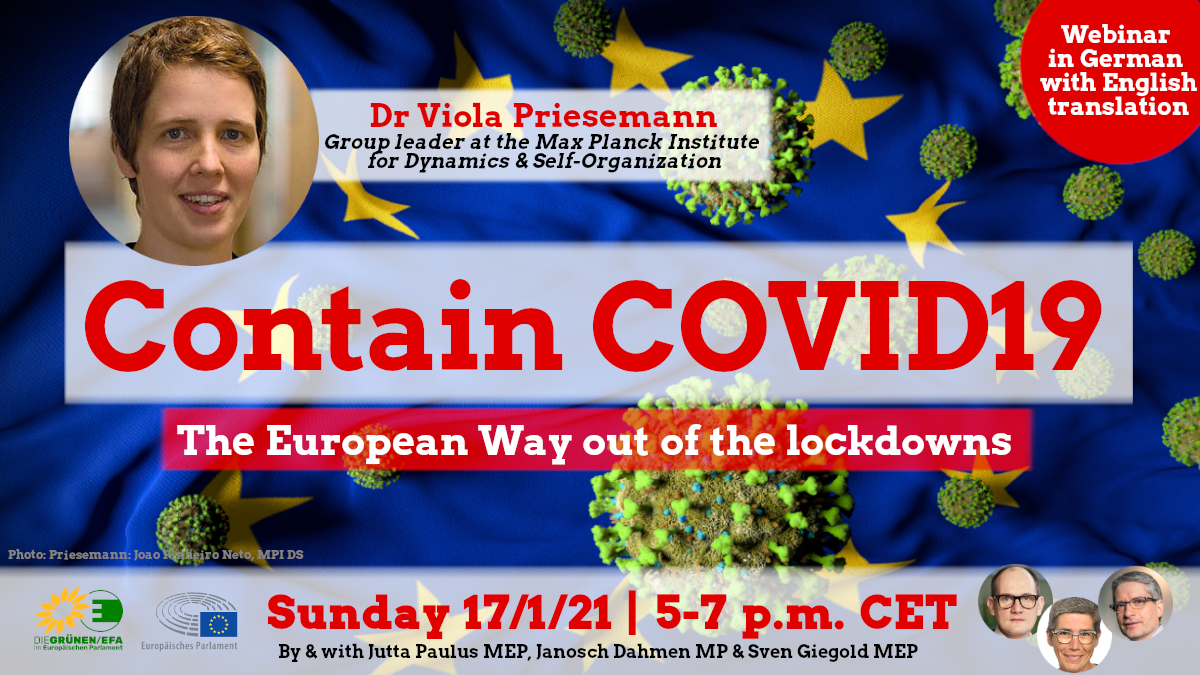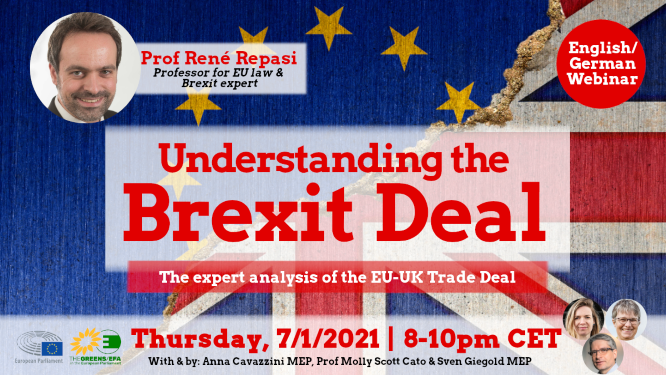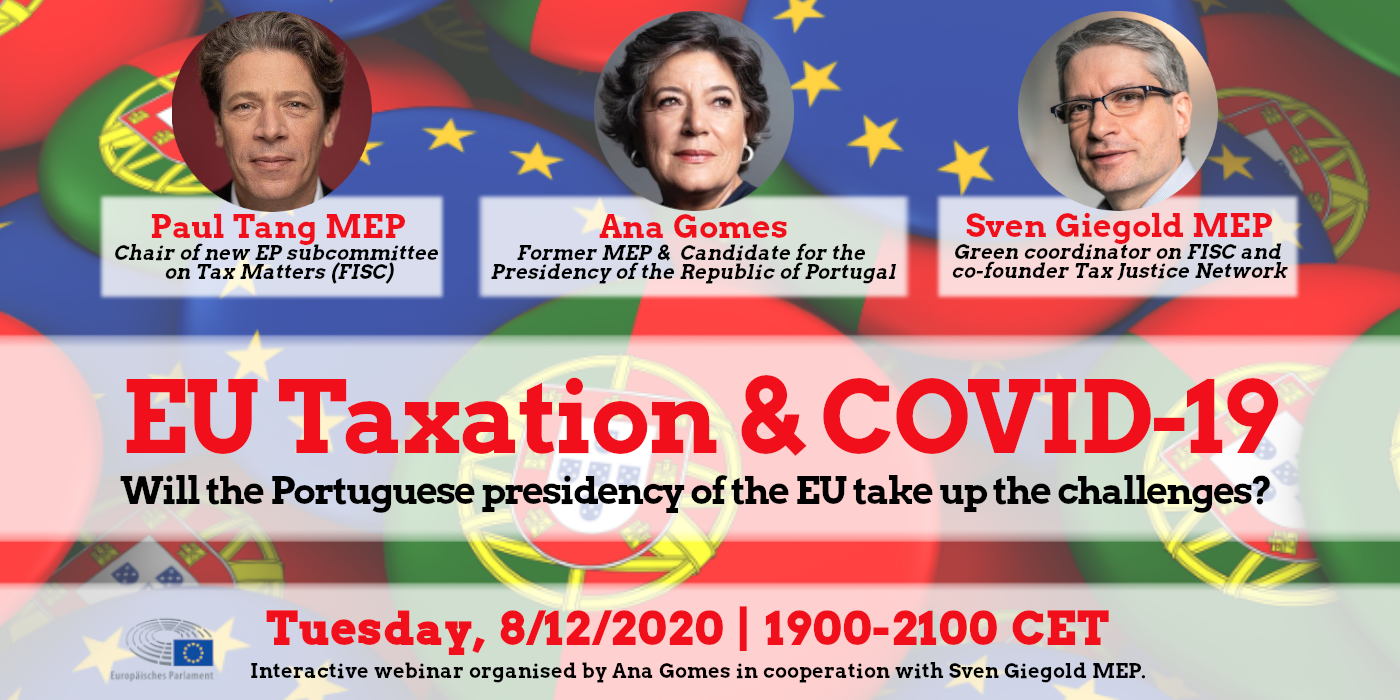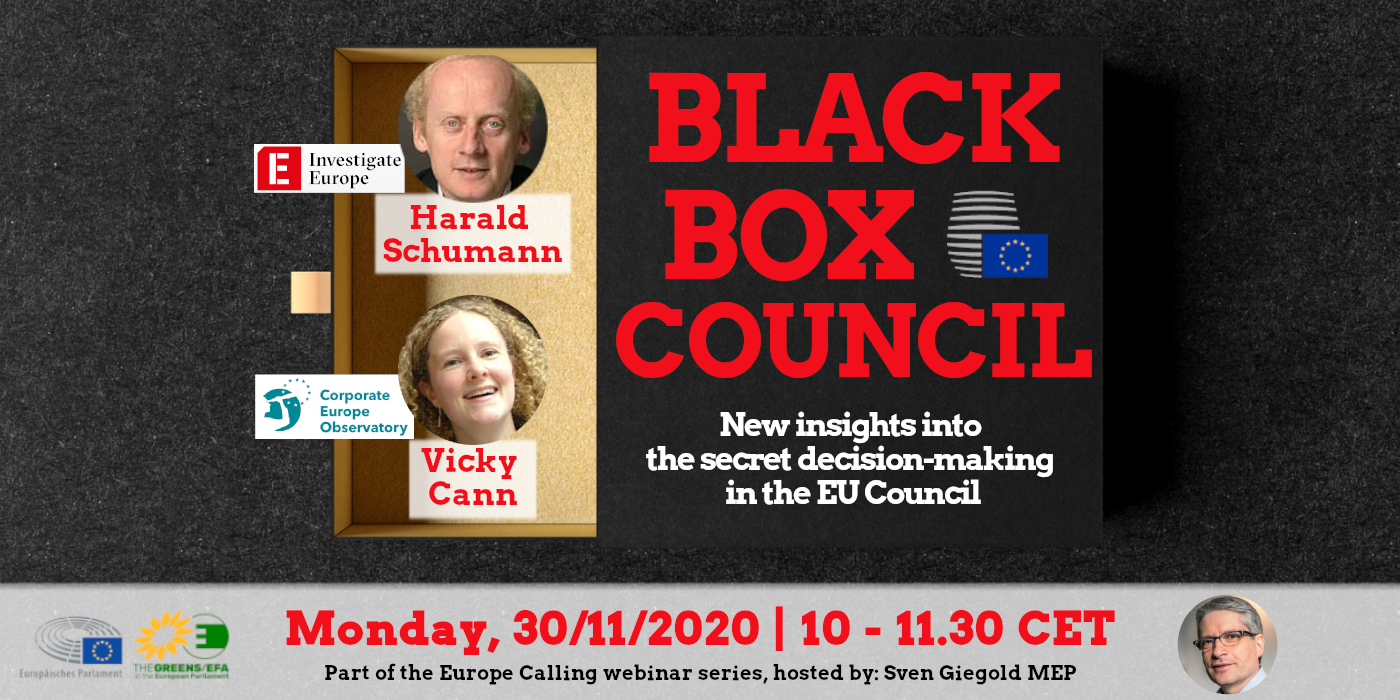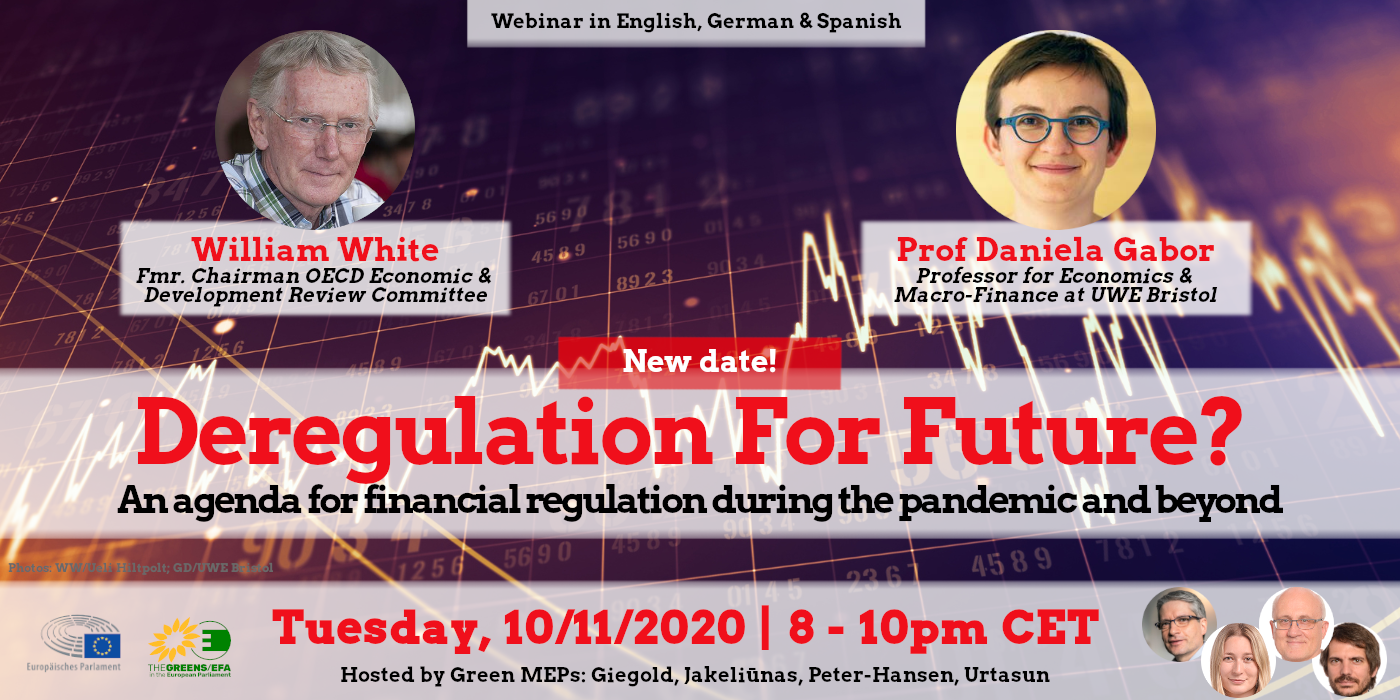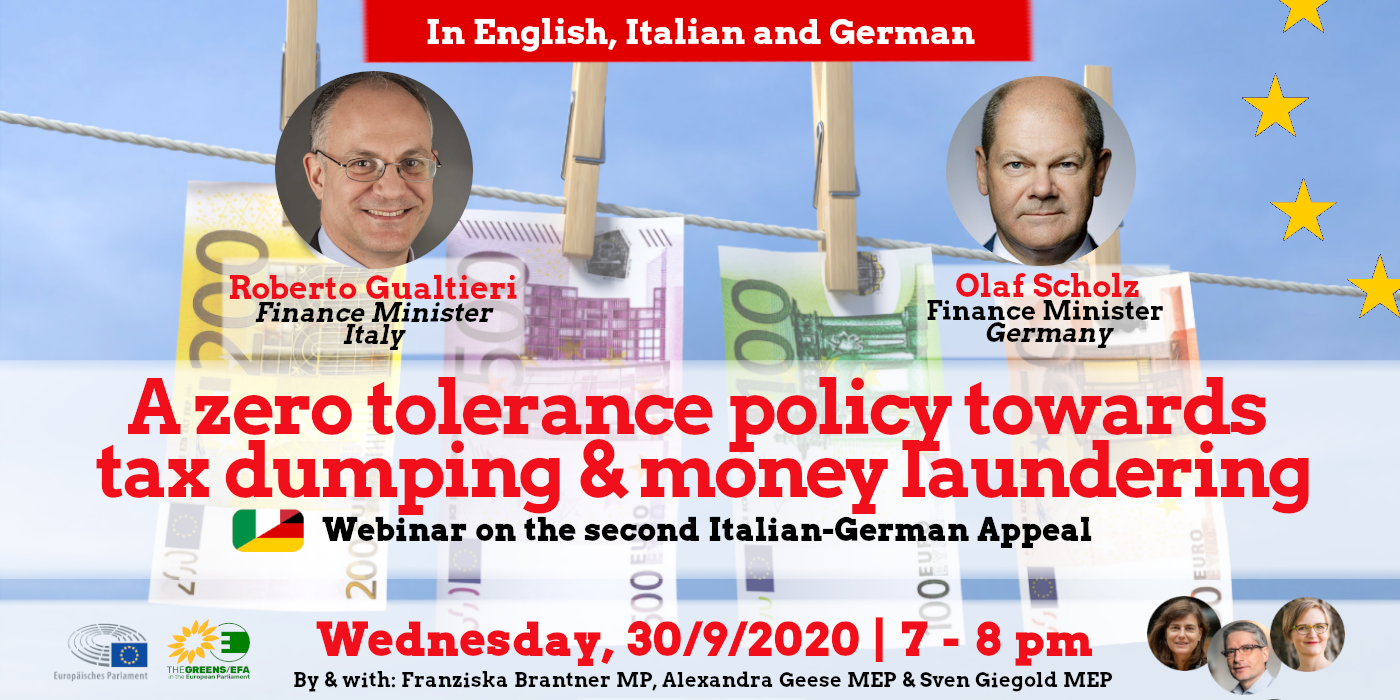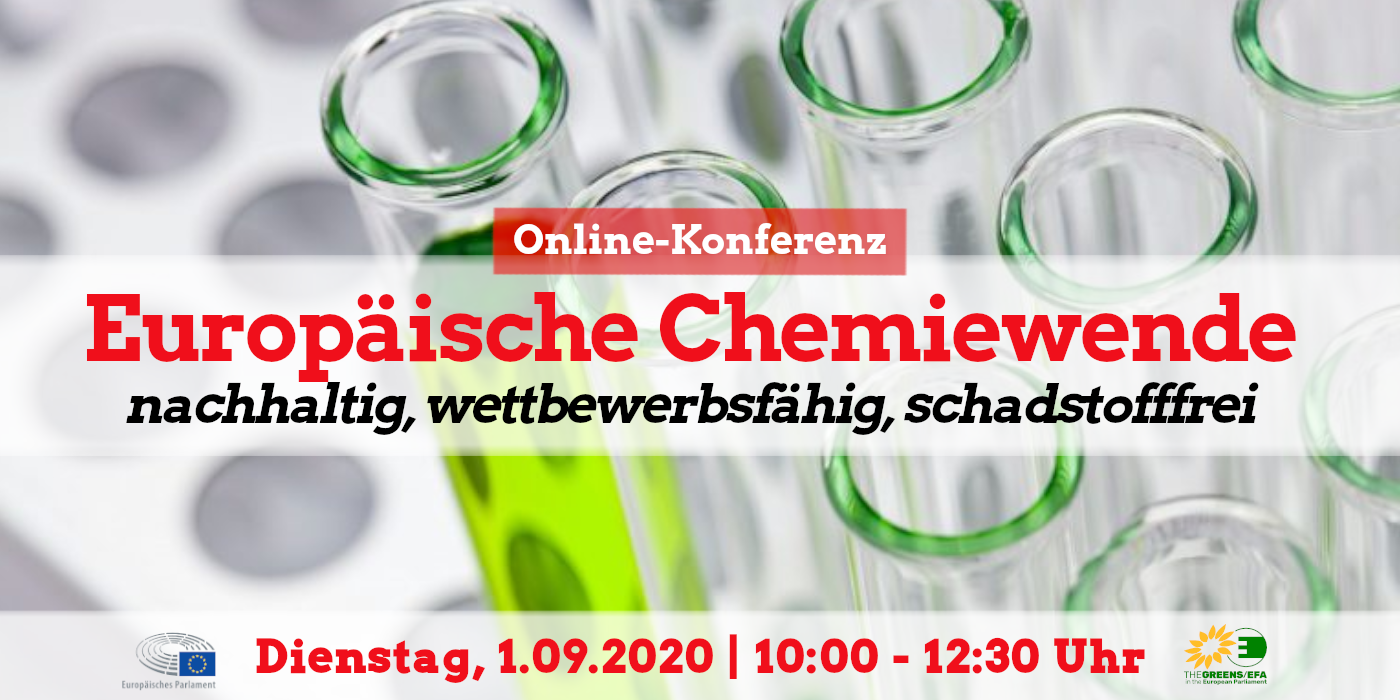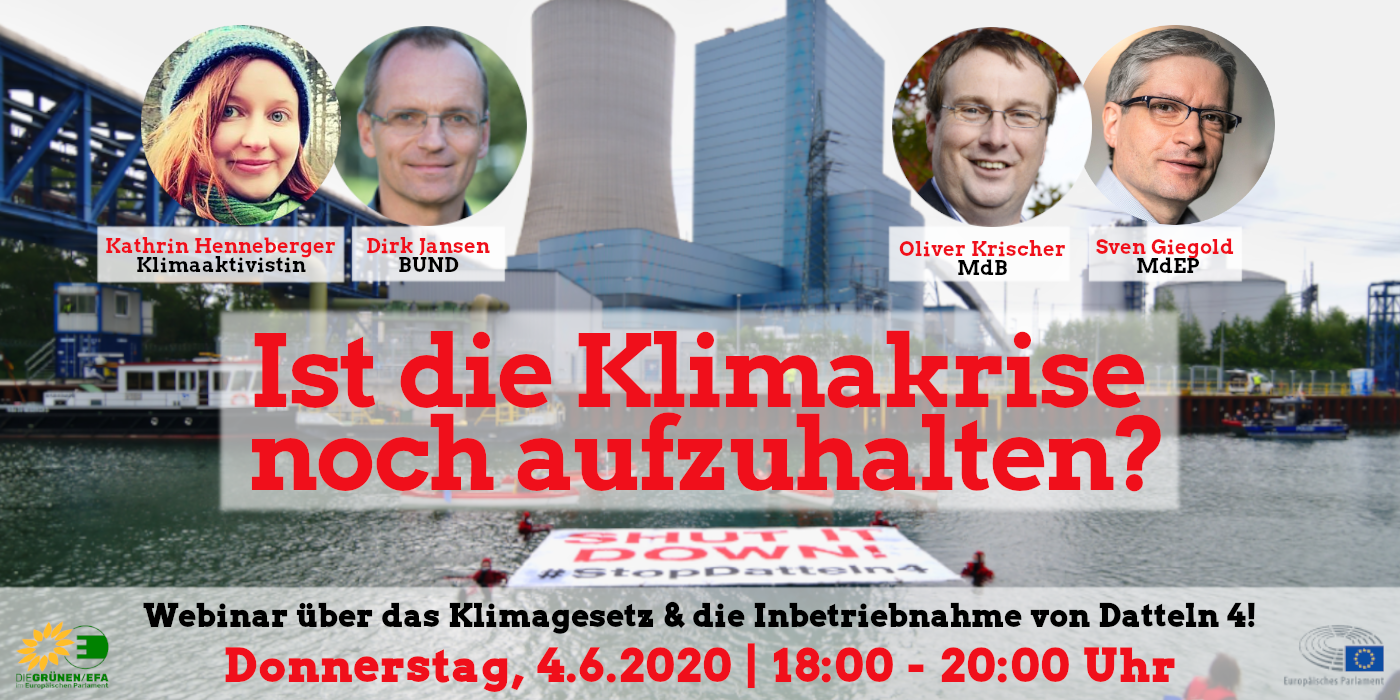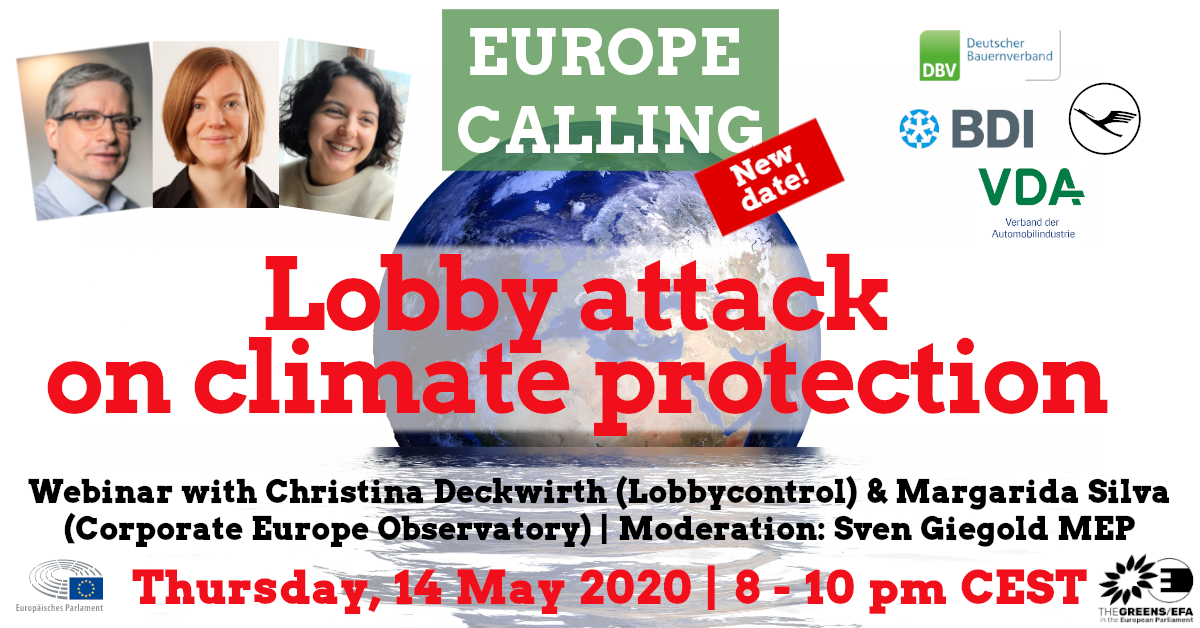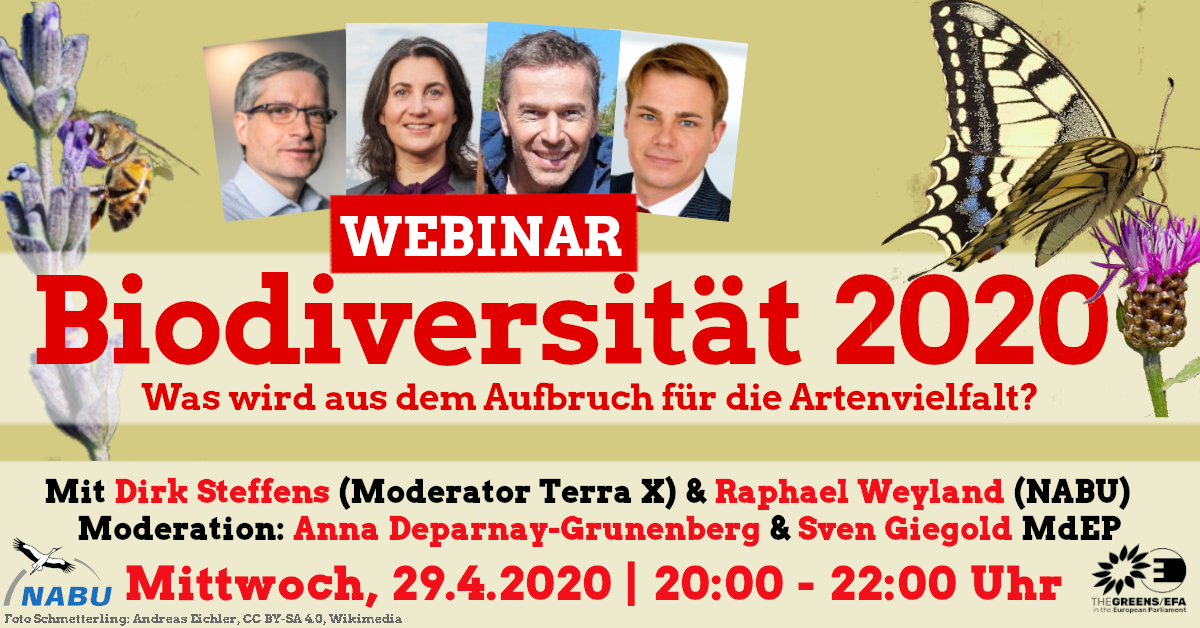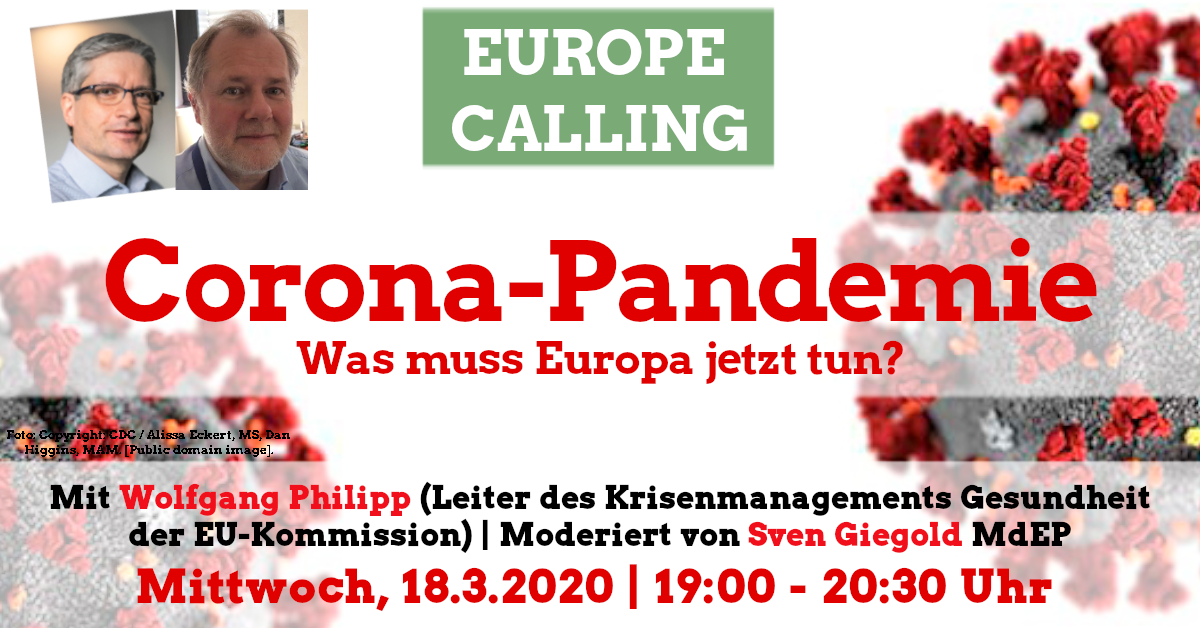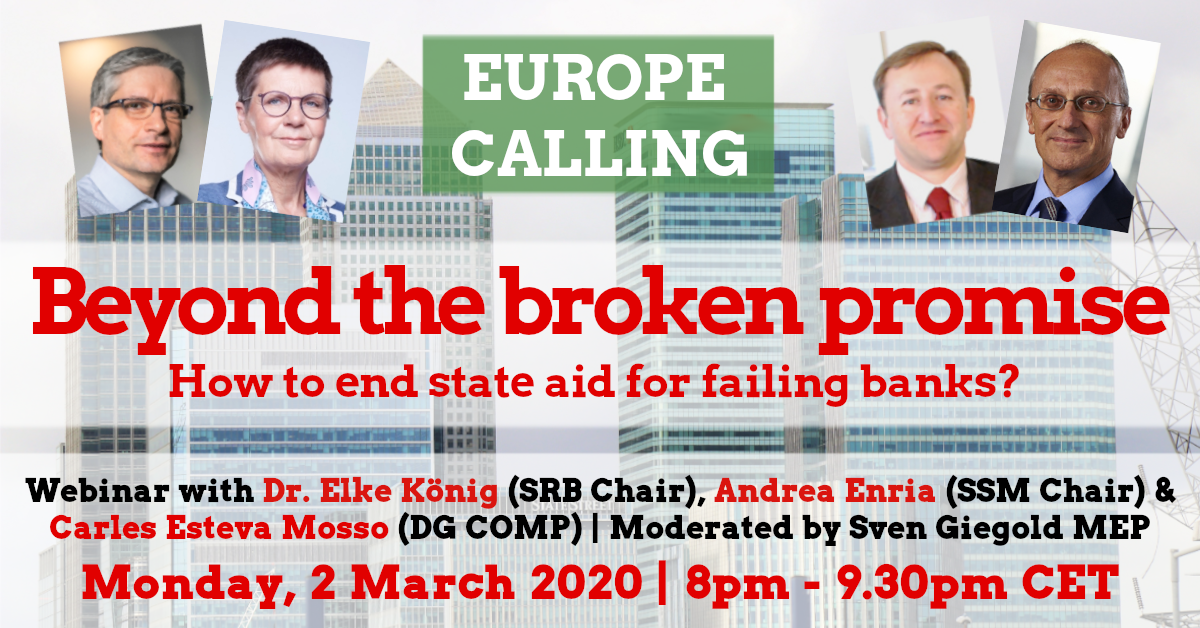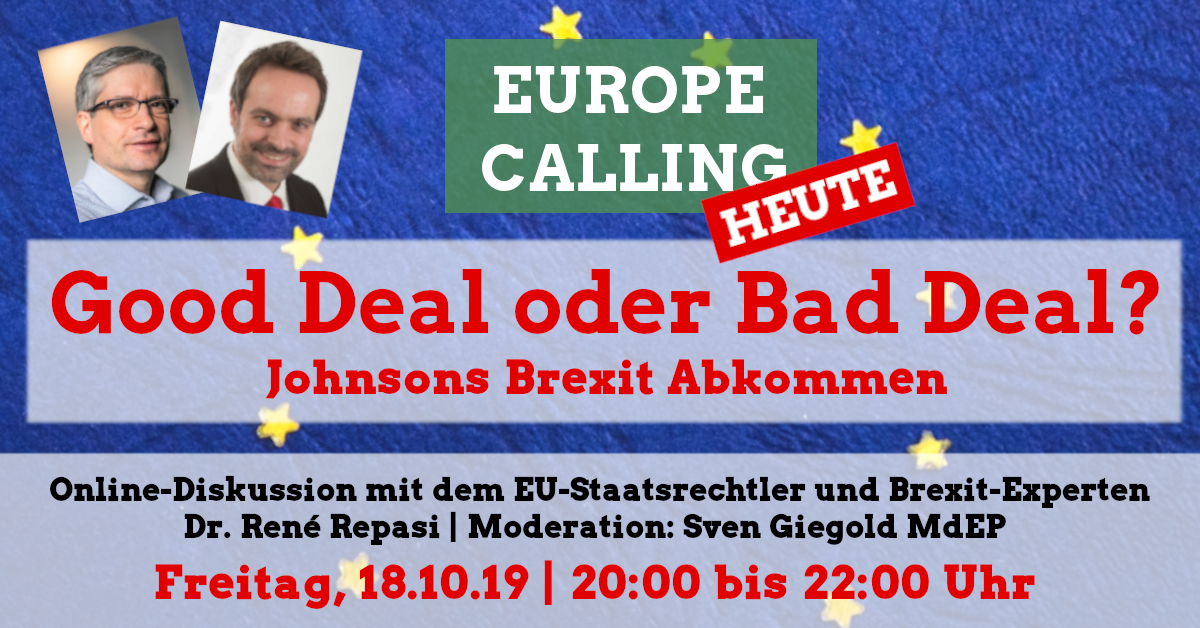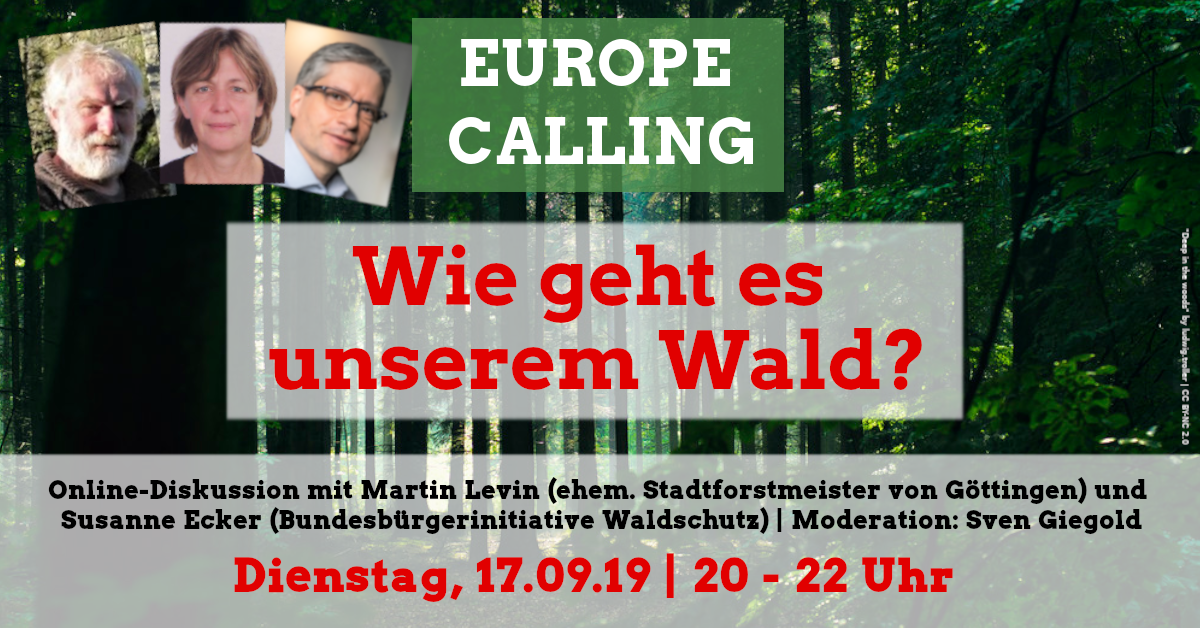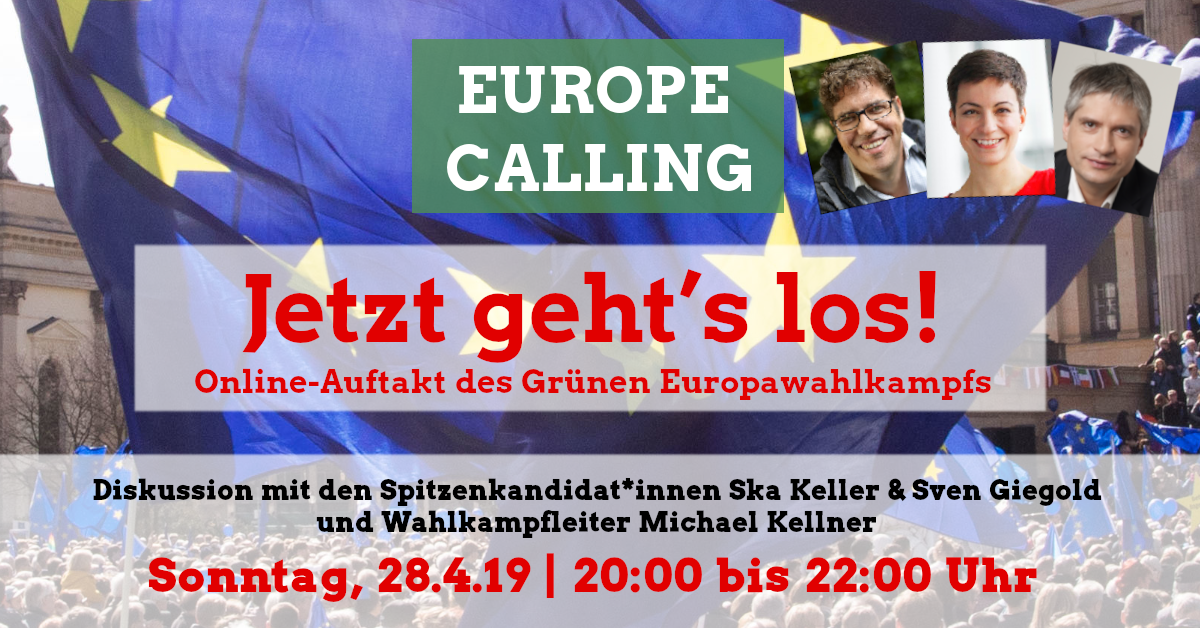 Europe Calling EXTRA "Brexit? No, thanks!" am Dienstag, den 16.4. um 20:00 Uhr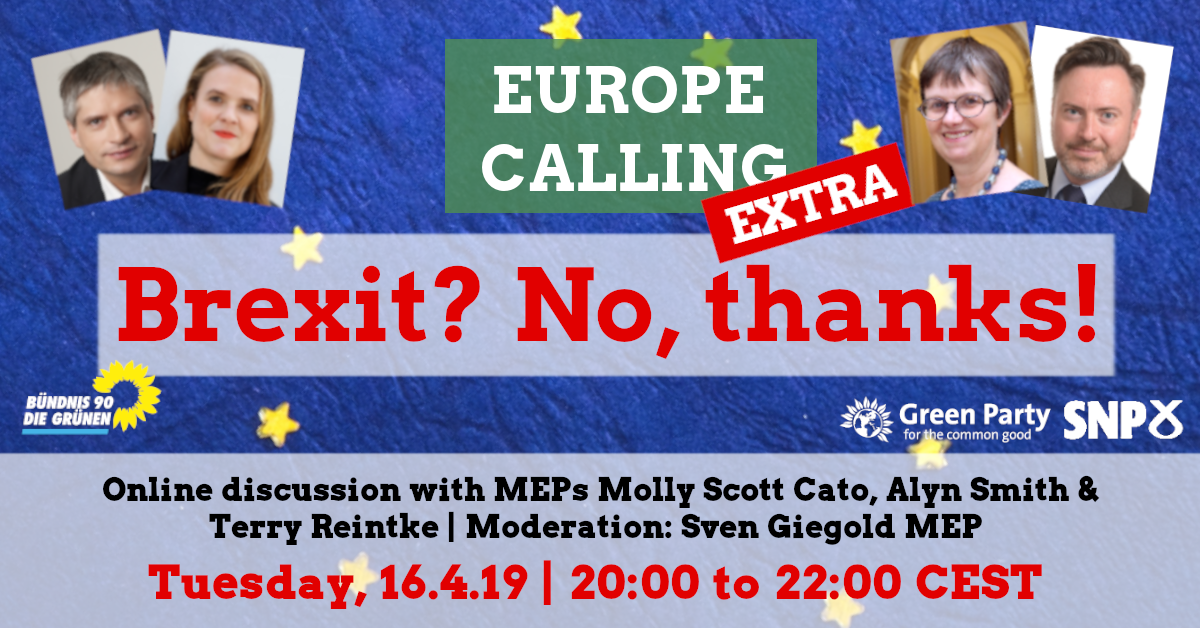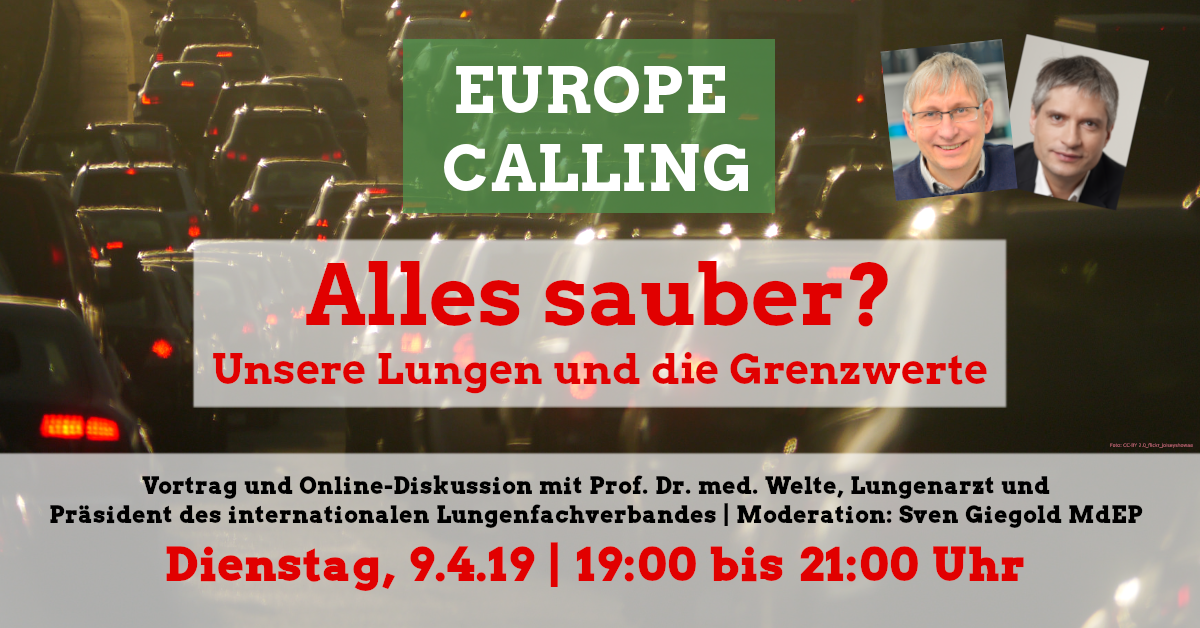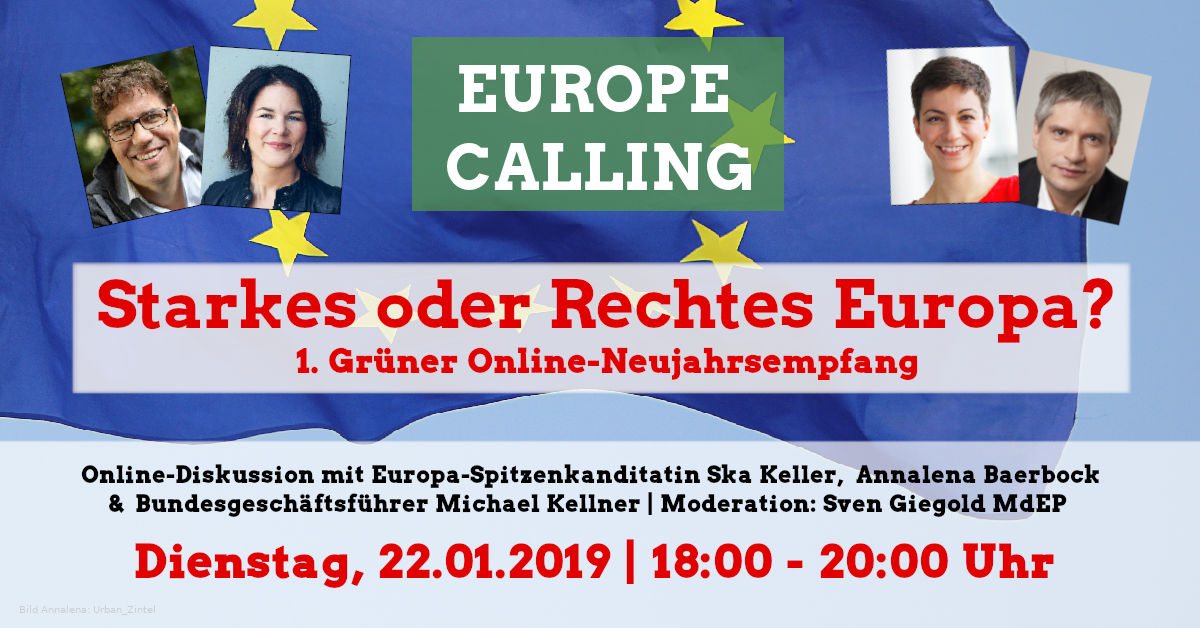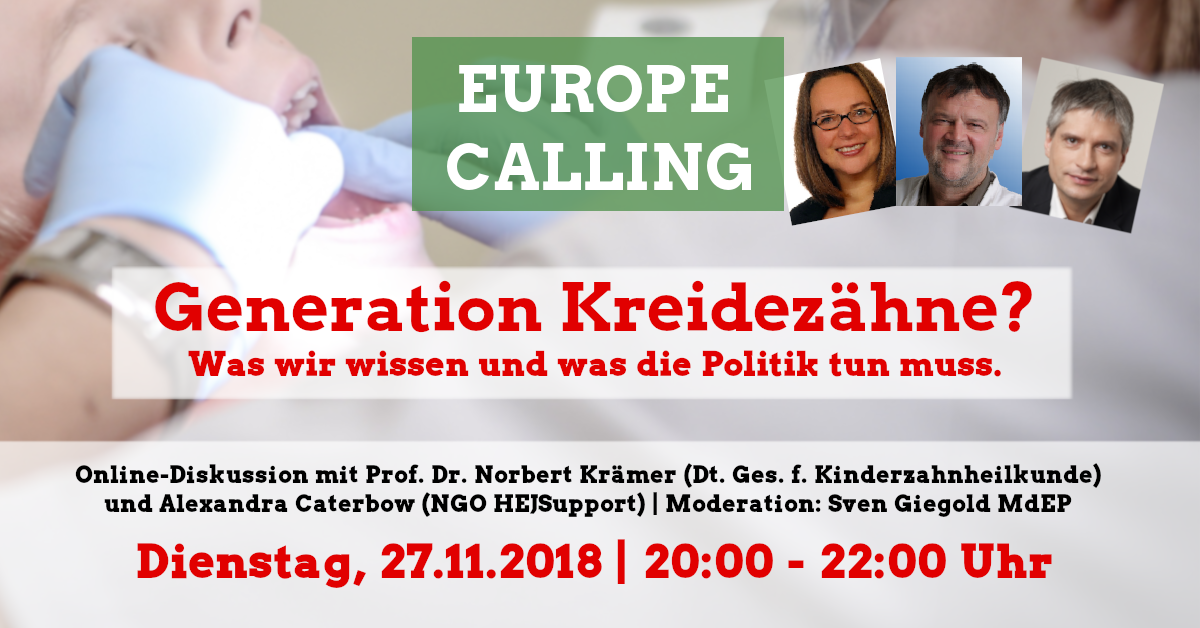 Montag, 5. November 2018, 18:00 – 19:30 Uhr: Europe Calling mit European-Green-Party Kandidat*innen für die Europawahl-Spitzenkandidat*innen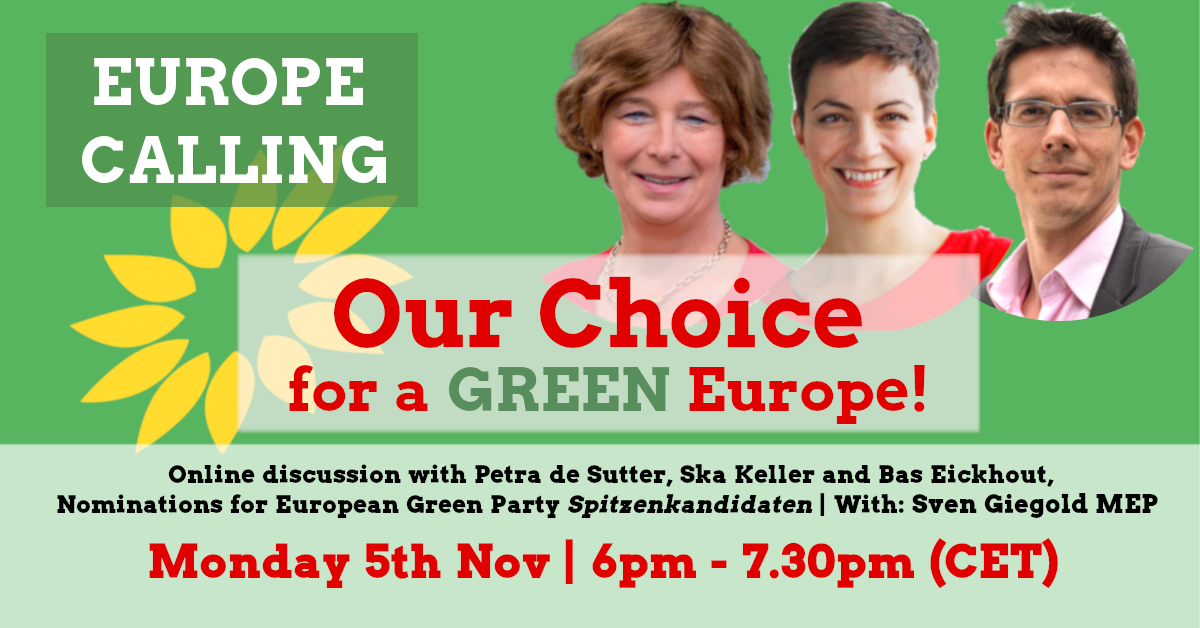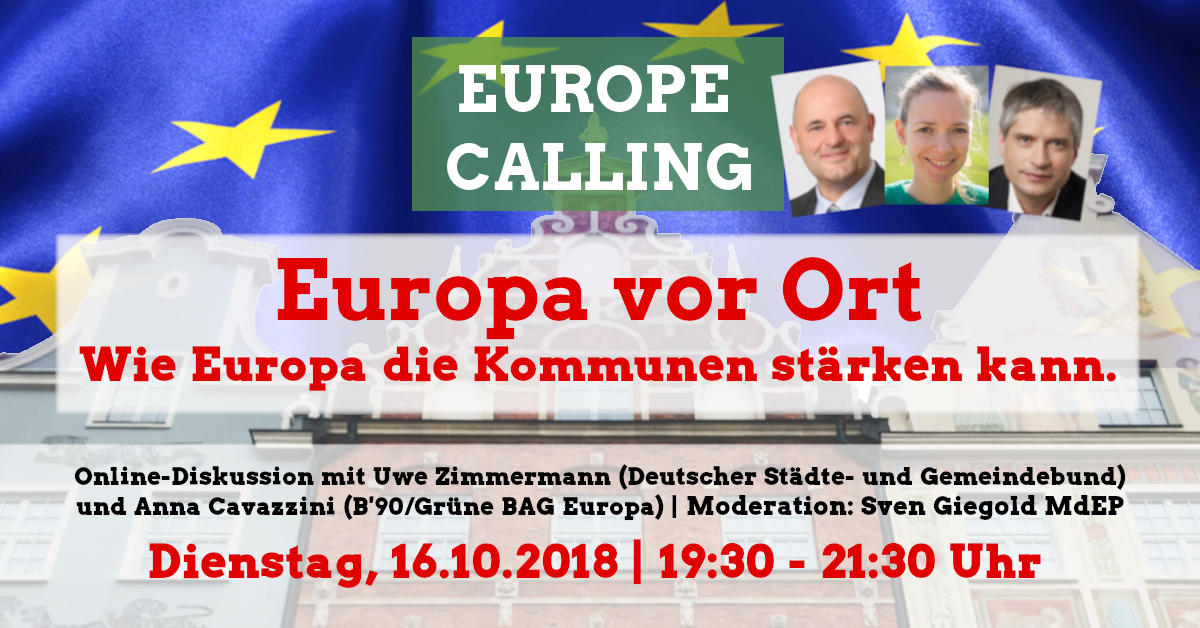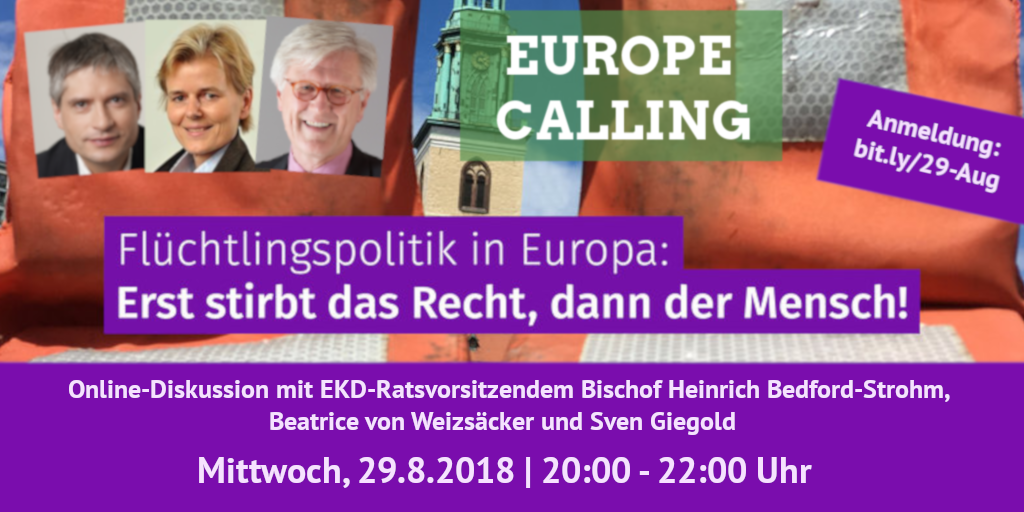 Europe Calling: "Weder fair noch frei! Was kommt in der EU-Handelspolitik?" am Donnerstag, 7. Juni 2018 um 18:00 Uhr Hier sind die Folien von Pia und Martin: Präsentation von Pia Eberhart – Präsentation von Martin Köhler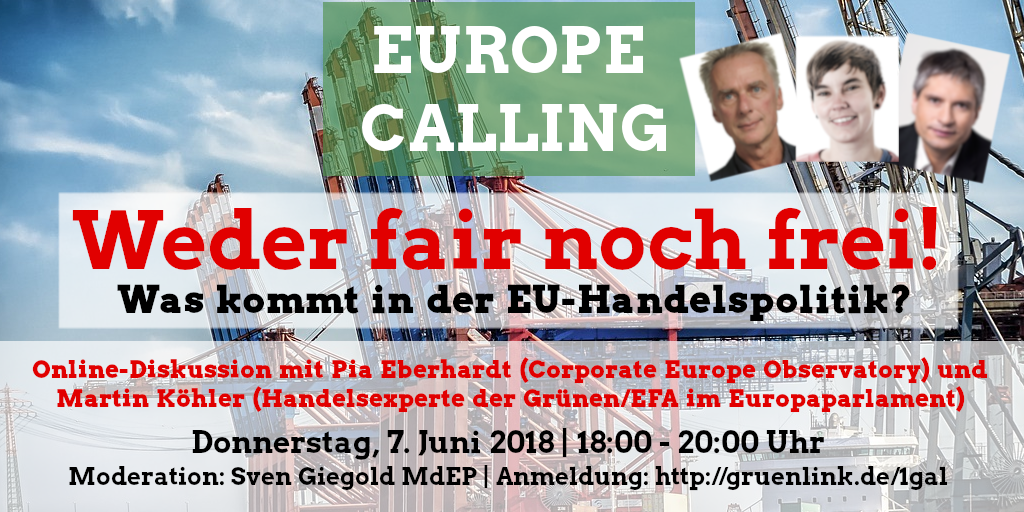 Europe Calling "Rückkehr zu den politisch Verlassenen" – Studienvorstellung mit Johannes Hillje am Mittwoch, 21. März 2018 um 18:00 Uhr Zur Aufzeichung // Präsentation von Johannes Hillje herunterladen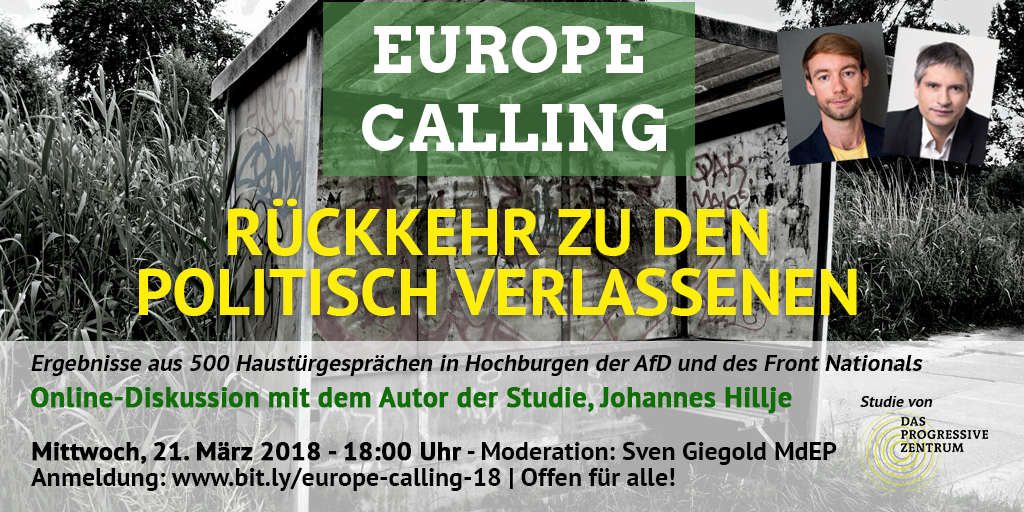 Europe Calling "Unsere Wahl: Wer macht den Bundesvorstand europäisch?" am Dienstag, 23.01.2018 um 20:00 Uhr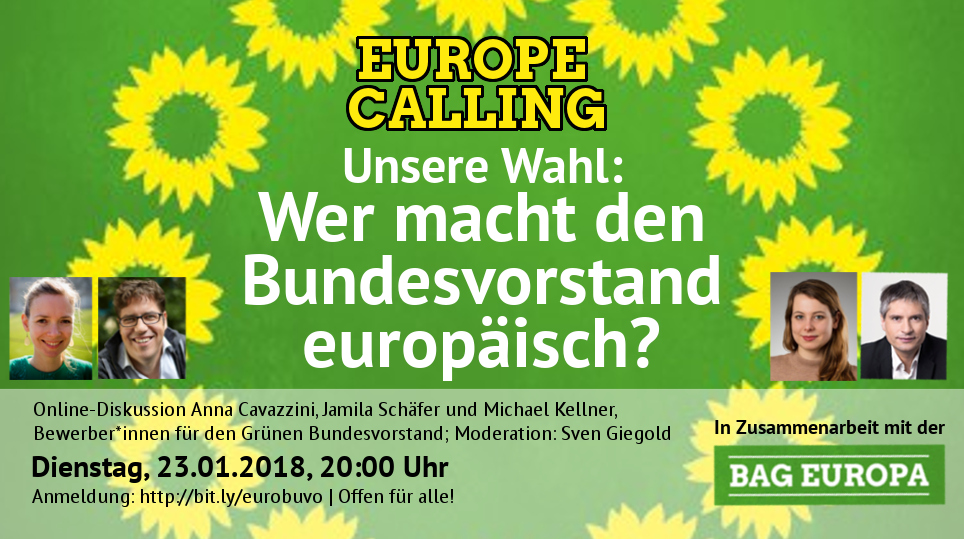 Greek perspectives on reforms and austerity – Europe Calling with Finance Minister Tsakalotos on 20th December 2017, 7 pm   The event was in English. The translation into German can be found here: http://bit.ly/tsakalotos-uebersetzung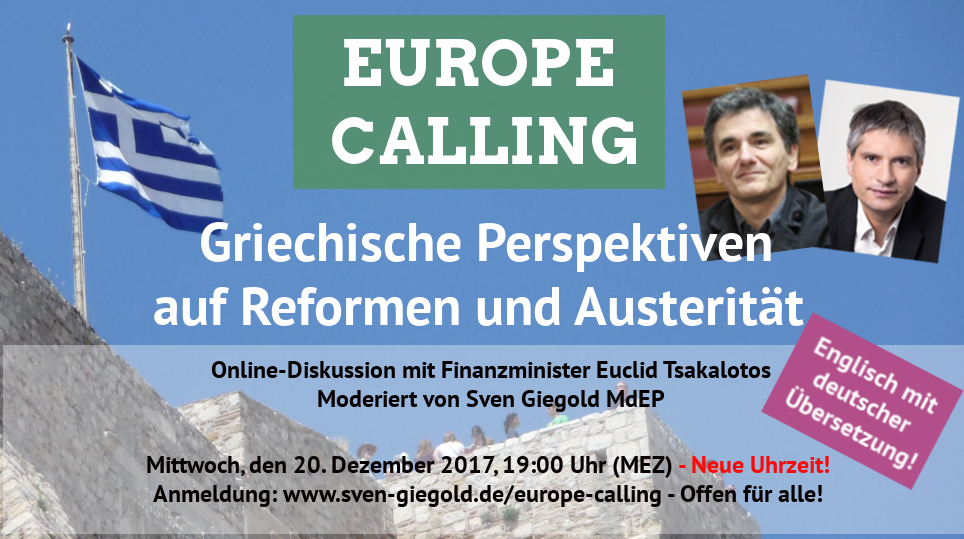 Europe Calling: "Ist Jamaika Grün genug?" am Dienstag, 21.11.2017, 20:30 Uhr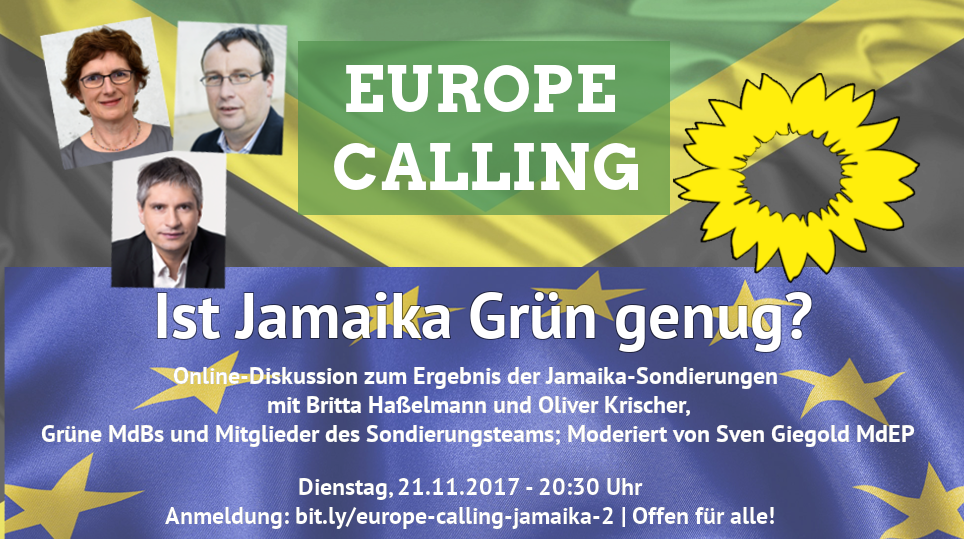 Europe Calling: "Steuersumpf Europa?" mit der GRÜNEN JUGEND am Dienstag, 14.11.2017 um 19:30 Uhr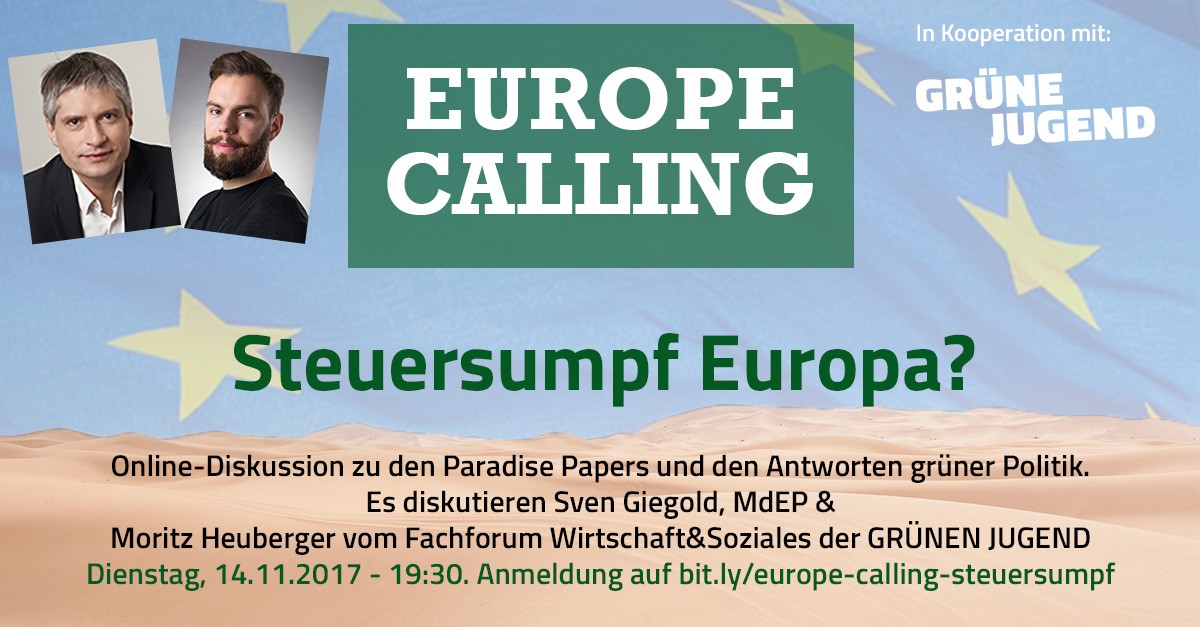 Europe Calling: Dreaming of Jamaica? Discuss with the German Greens on the prospects of possibly joining a coalition government. – Mittwoch, 11. October 2017, 18:30 Uhr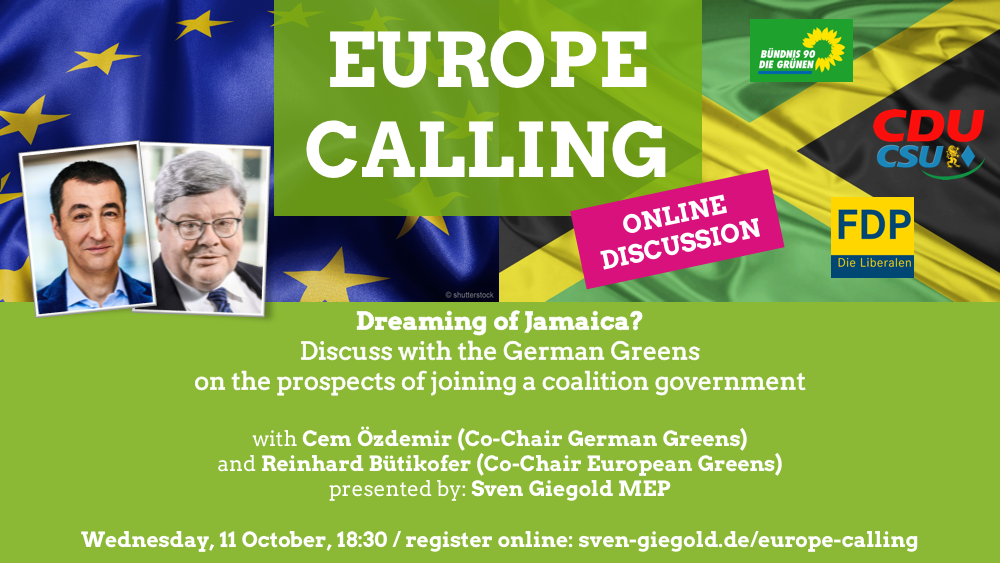 Europe Calling: Was tun gegen den Rechtsruck und die AfD? – Mittwoch, 27. September 2017, 17:45 Uhr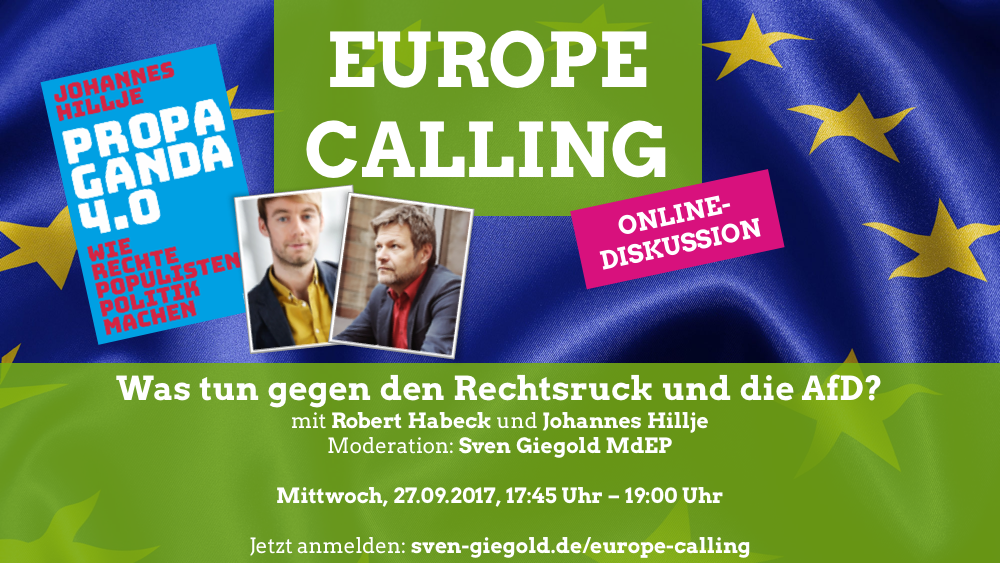 "Dieselskandal: Entschlossen für saubere Luft und für saubere Politik!" – Dienstag, 29. August 2017, 17:00 Uhr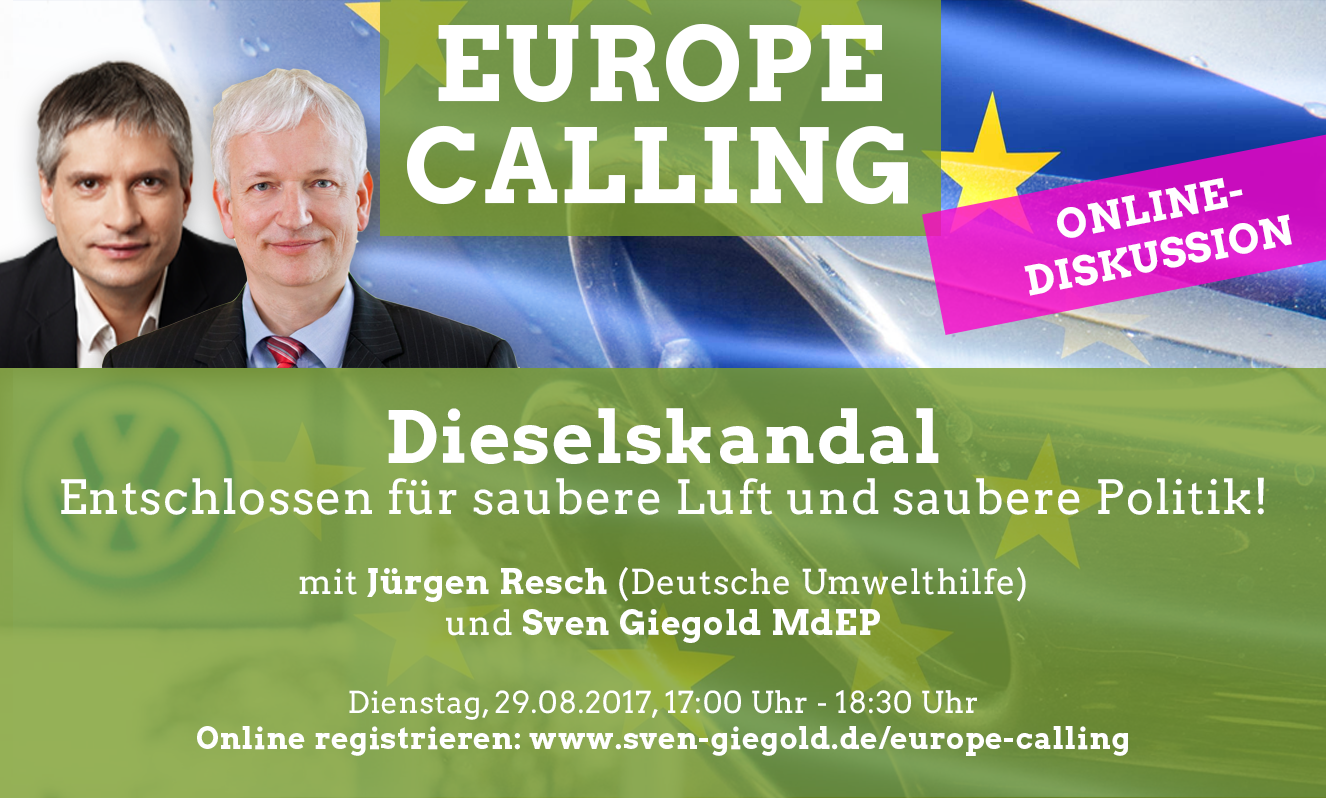 "Tatort Luftverschmutzung – Was enthüllten die Abgas-Untersuchungsausschüsse?" – Mittwoch, 26. April, 18:00 Uhr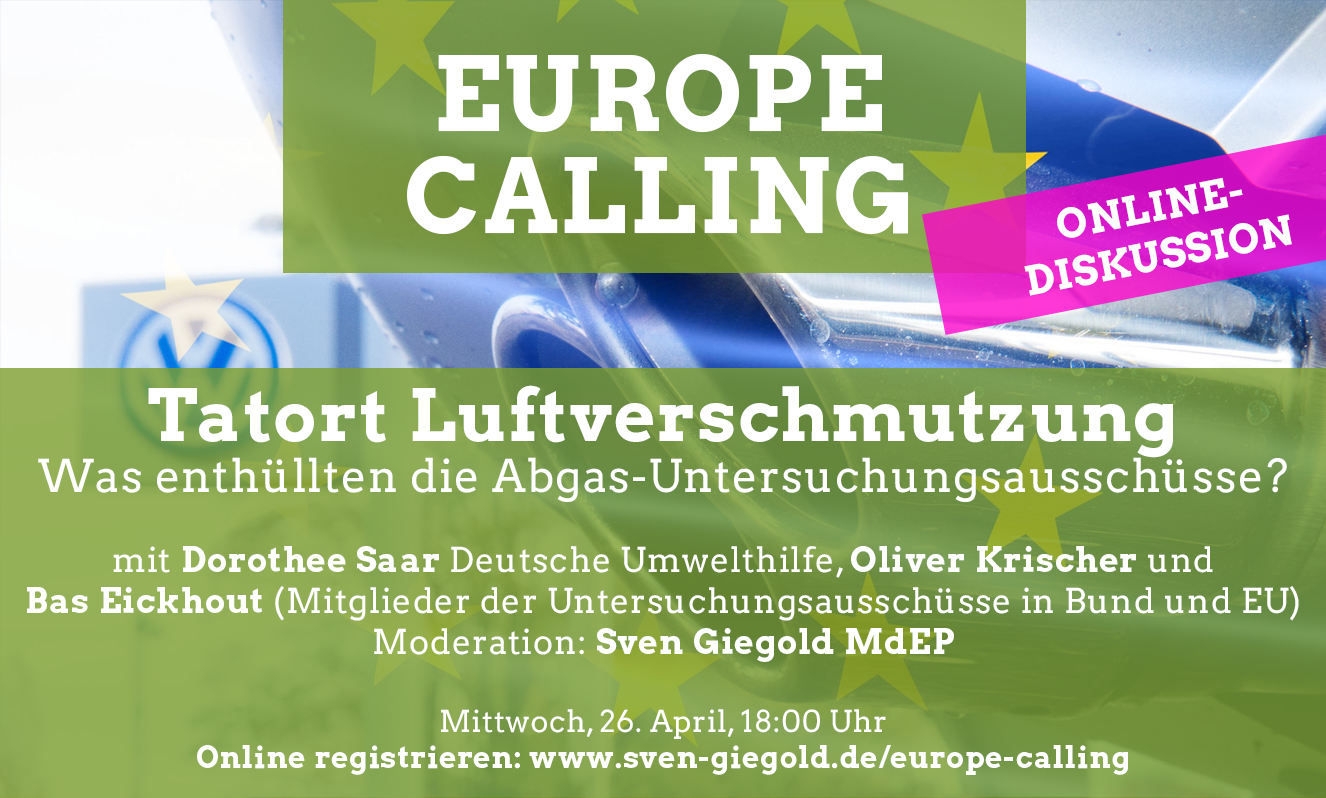 "Vor dem Schicksalstag des Referendums: Wird die Türkei zur Diktatur?" – Donnerstag, 30. März,16:00 Uhr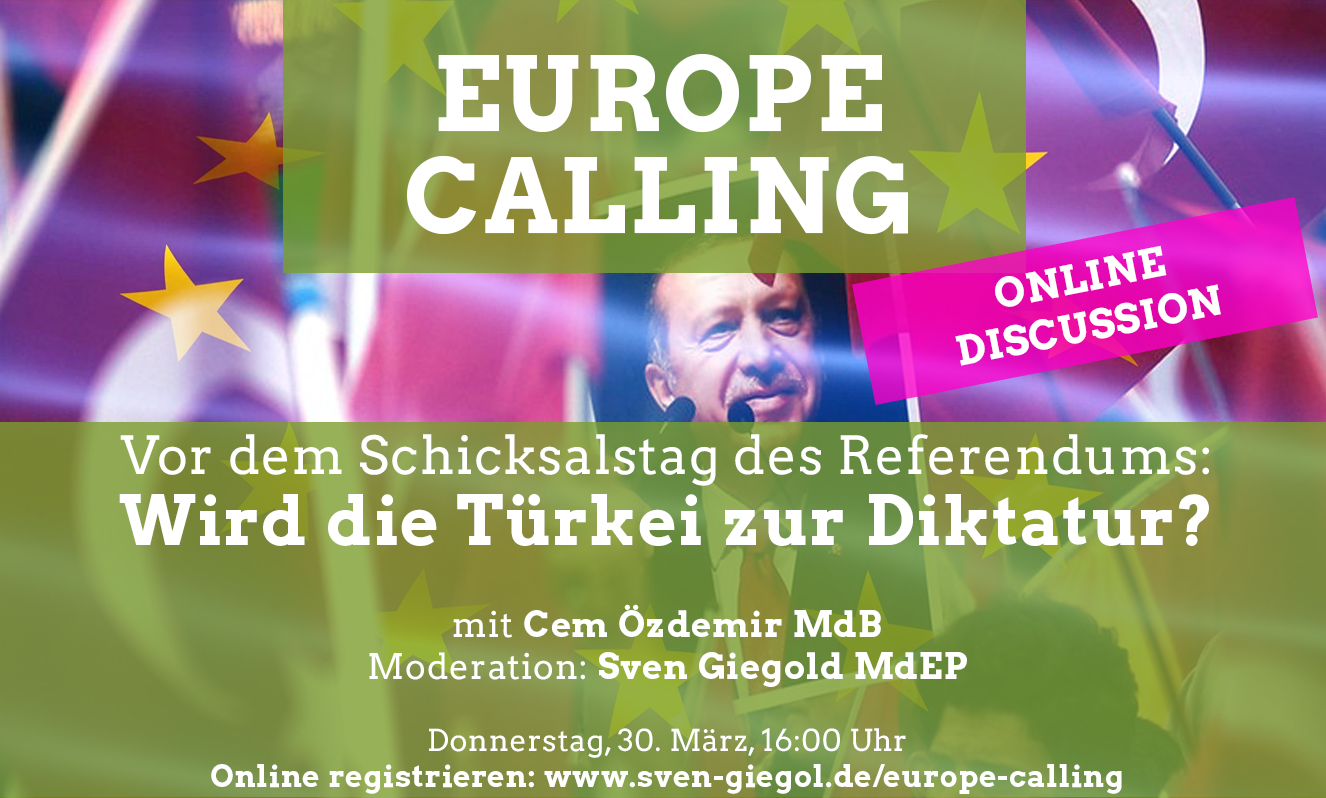 "Was bedeutet Trumps Präsidentschaft für Europa?" – Mittwoch, 1. März, 19:00 Uhr Hier finden Sie die Präsentation von Bastian Hermisson.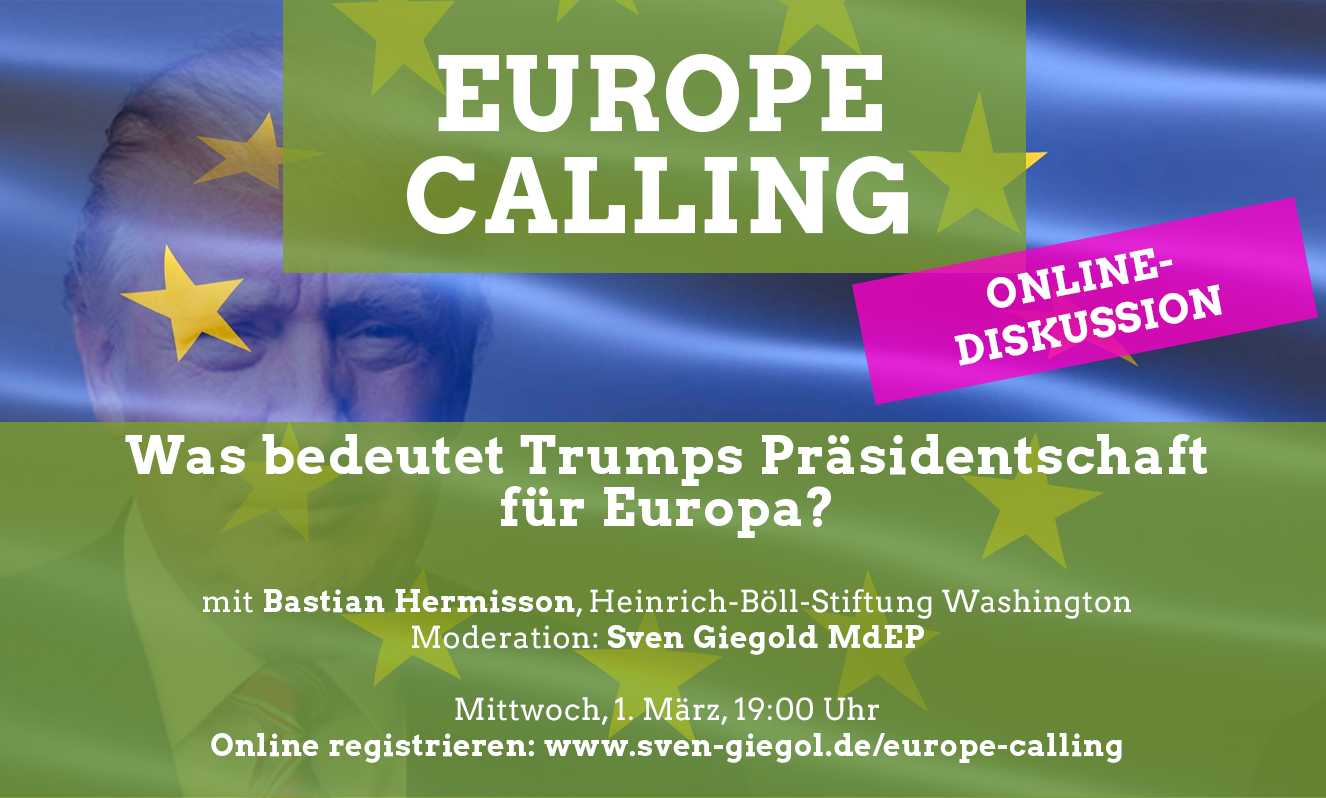 "A state-run pension fund – remedy against abusive life insurance policies? Lessons from Germany and Sweden" (ENGLISH) – Wednesday, 22 February, 3:00 PM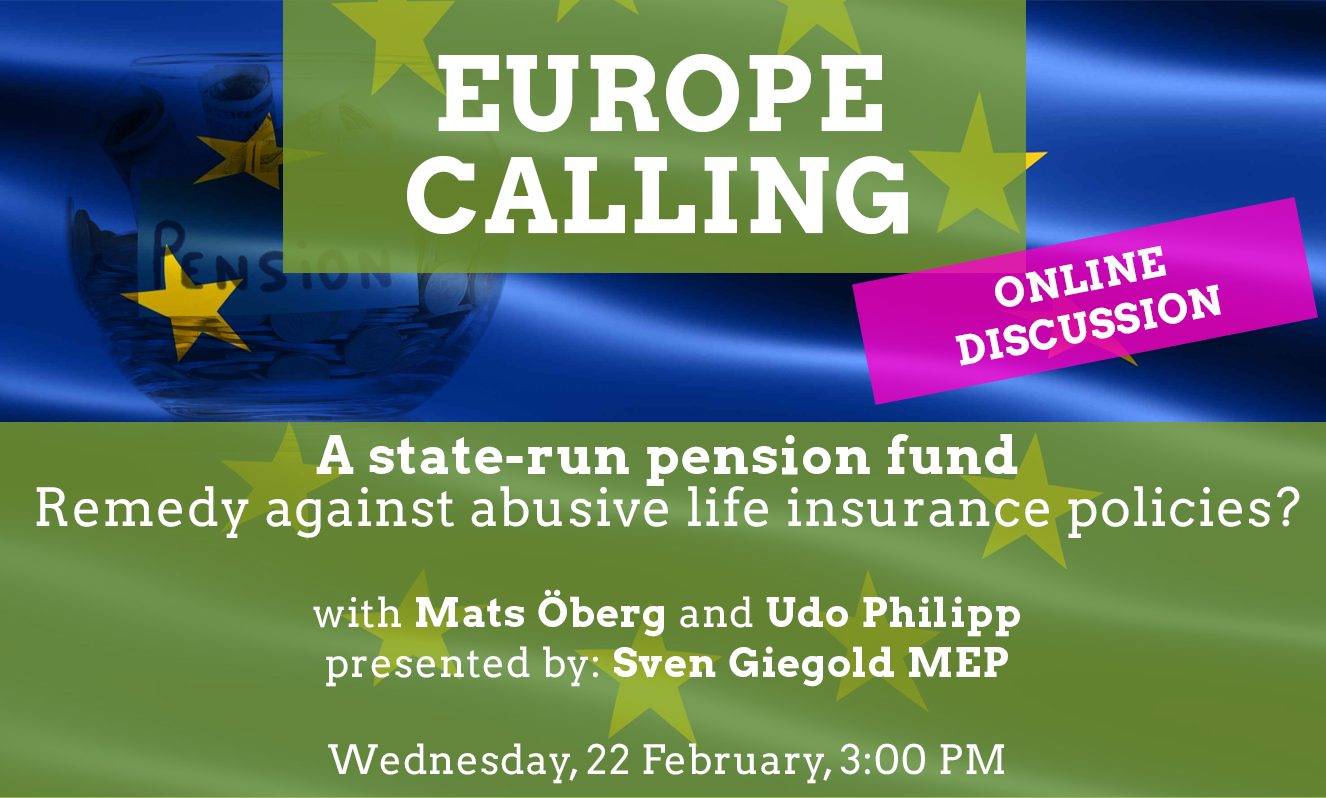 Hier finden Sie die Präsentationen von Mats Öberg und Udo Philipp.   "Supporting whistleblowers! Meet Antoine!" (ENGLISH) – Tuesday, 13 December, 8:00 PM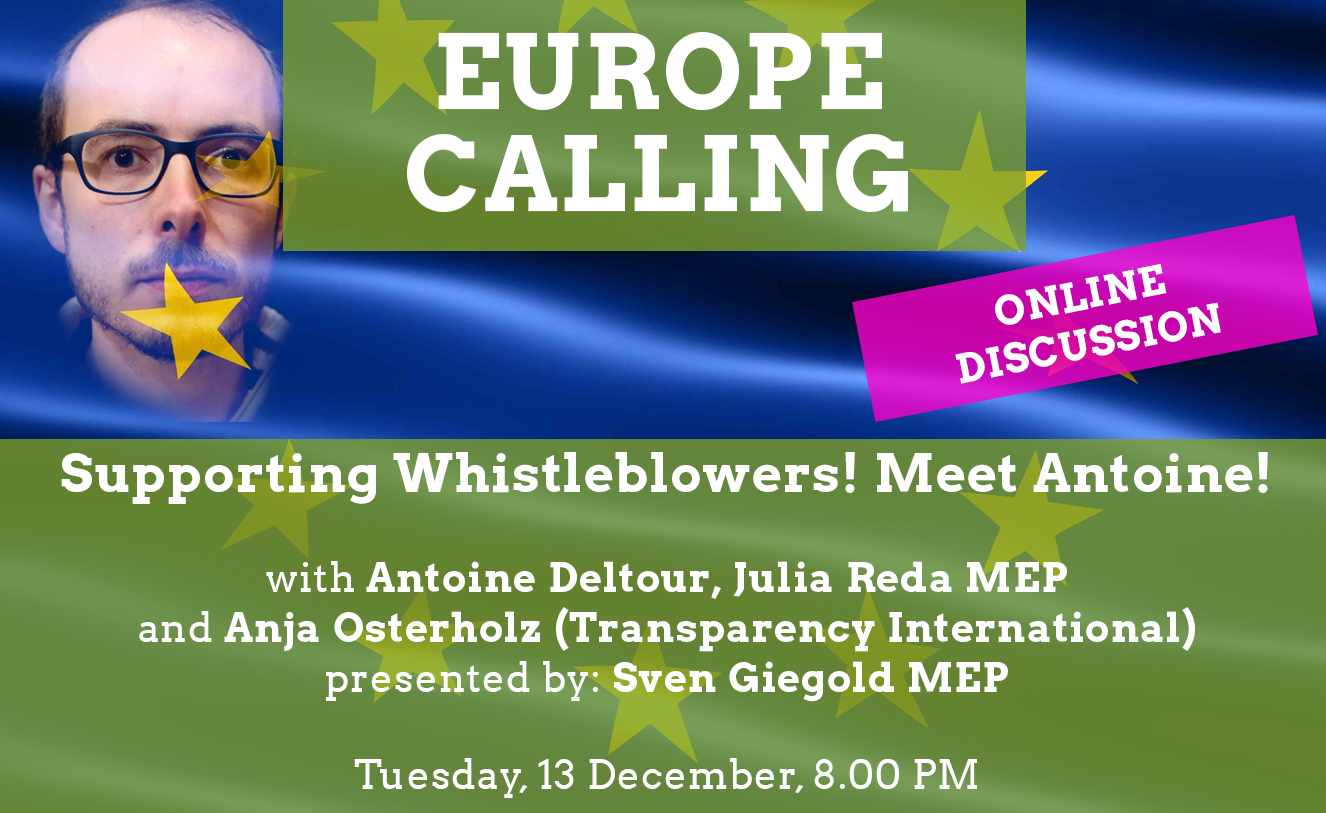 Europäische Diskussionen erreichen viele Menschen kaum, obwohl sie alle Bürgerinnen und Bürger betreffen. Mit einem neuen digitalen Veranstaltungsformat möchte ich den Zugang erleichtern und die Diskussion über notwendige Änderungen in der europäischen Politik befeuern. Die Idee ist simpel: Gemeinsam mit einem oder mehreren Referent*innen diskutiere ich über ein "Webinar"-Tool zu aktuellen europäischen Themen – und mehrere Hundert Gäste können dabei sein, ob vom heimischen Sofa, dem Büro oder sogar unterwegs. Und so geht's: Vorab über den unten angegebenen Link zum "Webinar" anmelden, dem per Mail versandten Bestätigungslink folgen und dann zum entsprechenden Zeitpunkt einwählen. Von da an ist alles selbsterklärend: Auf dem Bildschirm werden die/der Sprecher*in oder eine Präsentation angezeigt. Über den Chat können Wortbeiträge angemeldet oder auch direkt geschrieben werden. Und ich als Moderator leite durch Vortrag und Diskussion.   "Finanzwende – den nächsten Crash verhindern" – Mittwoch, 23. November, 20:00 Uhr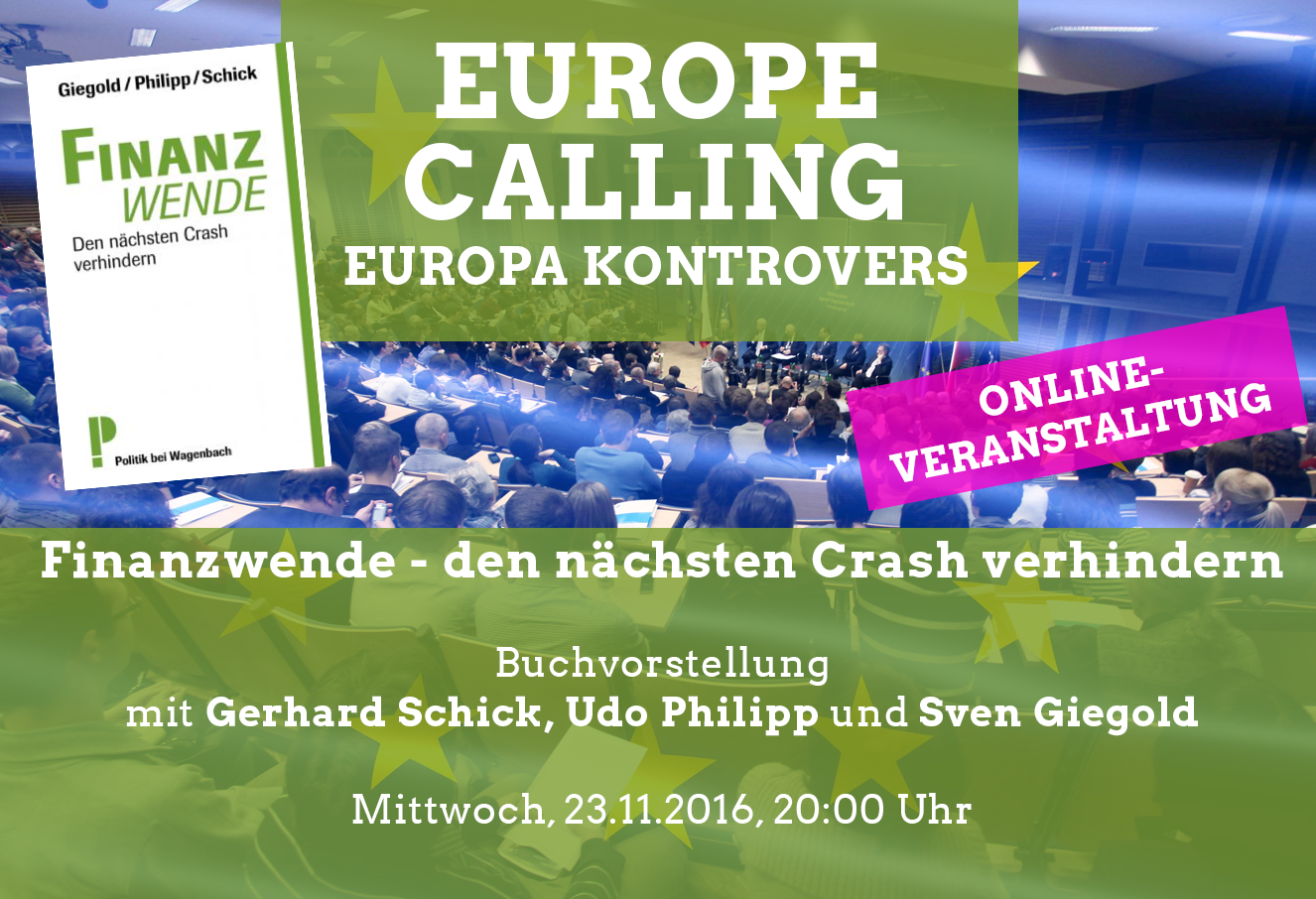 "Your Data – Your Choice: Will the EU Data Protection Reform put citizens back in control?" (ENGLISH!) – Tuesday 8 March – 8:00 PM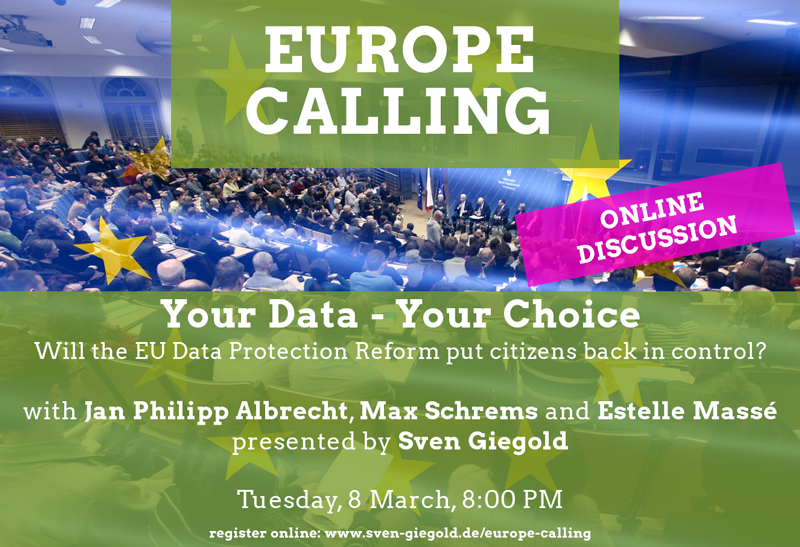 "Deine Daten – Deine Wahl: Was bringt die neue EU-Datenschutzverordnung?" – Montag, 1. Februar 2016 – 18:00 Uhr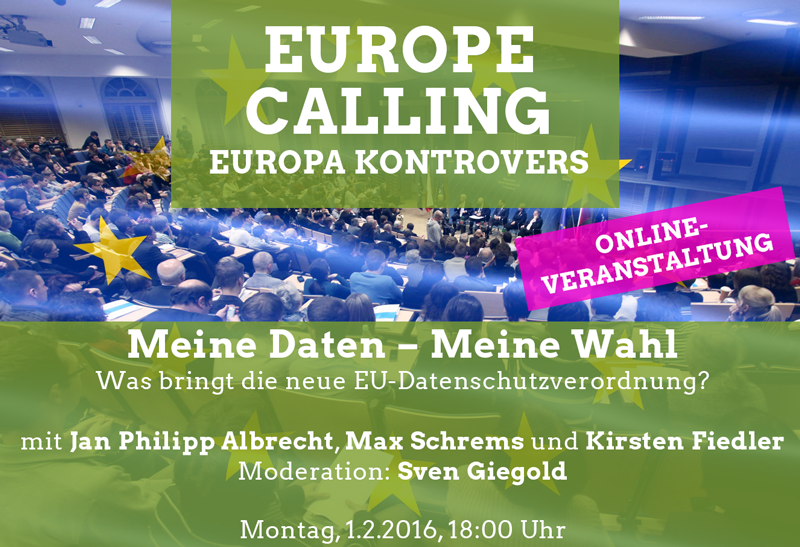 "Mehr Transparenz und Demokratie in Europa!" – Dienstag, 15. Dezember 2015, 20:00 Uhr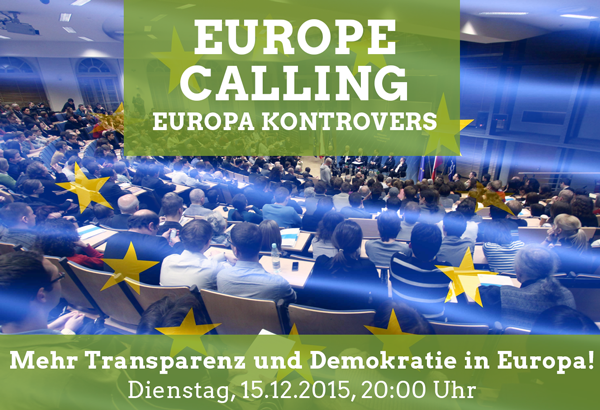 Hier finden Sie die in der Veranstaltung gezeigte Präsentation: Download