Dear friends,
The European Green Deal is the most comprehensive and ambitious climate and environmental protection programme ever launched by the European Union. The Green Deal has what it takes to make Europe a climate-neutral continent and at the same time transform the economy in a socially and ecologically just way.
But does the Green Deal fulfil these expectations in all areas? We, the German Greens in the European Parliament, are organising a two-day online conference on this issue. With top-class guests from governments, the European Parliament, the EU Commission and civil society, we will examine the Green Deal from all sides.
Take advantage of this unique opportunity to understand and discuss the central project of the European Union in its entirety.
—
Thursday, 18 March, 20:00 – 21:30 CET
Kick-off webinar: "European Green Deal – Setting the Course"
Joining us are:
Zakia Khattabi, Belgian Minister for Climate, Environment, Sustainable Development and the Green Deal
Terhi Letonen, State Secretary at the Finnish Ministry of Environment and Climate Change
Eamon Ryan, Irish Minister for the Environment, Climate and Communications, and Transport
Henrike Hahn, MEP, Committee on Industry, Research and Energy and Deputy Spokesperson German Green Party in the European Parliament
This webinar will be held in English, French and German, with simultaneous interpretation.
—
Friday, 19 March, 9:30 – 11:00 a.m. CET
Five parallel webinars on all aspects of the European Green Deal
with top-class speakers – Economy, Transport, Social Justice, Biodiversity and International – Check out the webinars and register here!
+++ Our webinar: "How socially just is the European Green Deal?" +++
Together with colleagues Katrin Langensiepen and Rasmus Andresen, we will address the topic of social justice with a high-level guest. Because one thing is clear: The Green Deal can only be successful in the long term if it is socially just. All info below the picture! Register right here!
—
Friday, 19 March, 11:30 a.m. to 12:30 p.m. CET
Closing webinar: European Green Deal – Setting the Course
We take stock with you and look ahead. With:
Ska Keller, MEP, Chair of the Greens/EFA Group
Sven Giegold, MEP, Spokesperson on Financial and Monetary Policy for the Greens/EFA Group and Spokesperson for the Greens European Group
—
Please come to this conference in large numbers and invite other interested parties!
With European greetings,
Sven Giegold for the German Greens in the European Parliament
—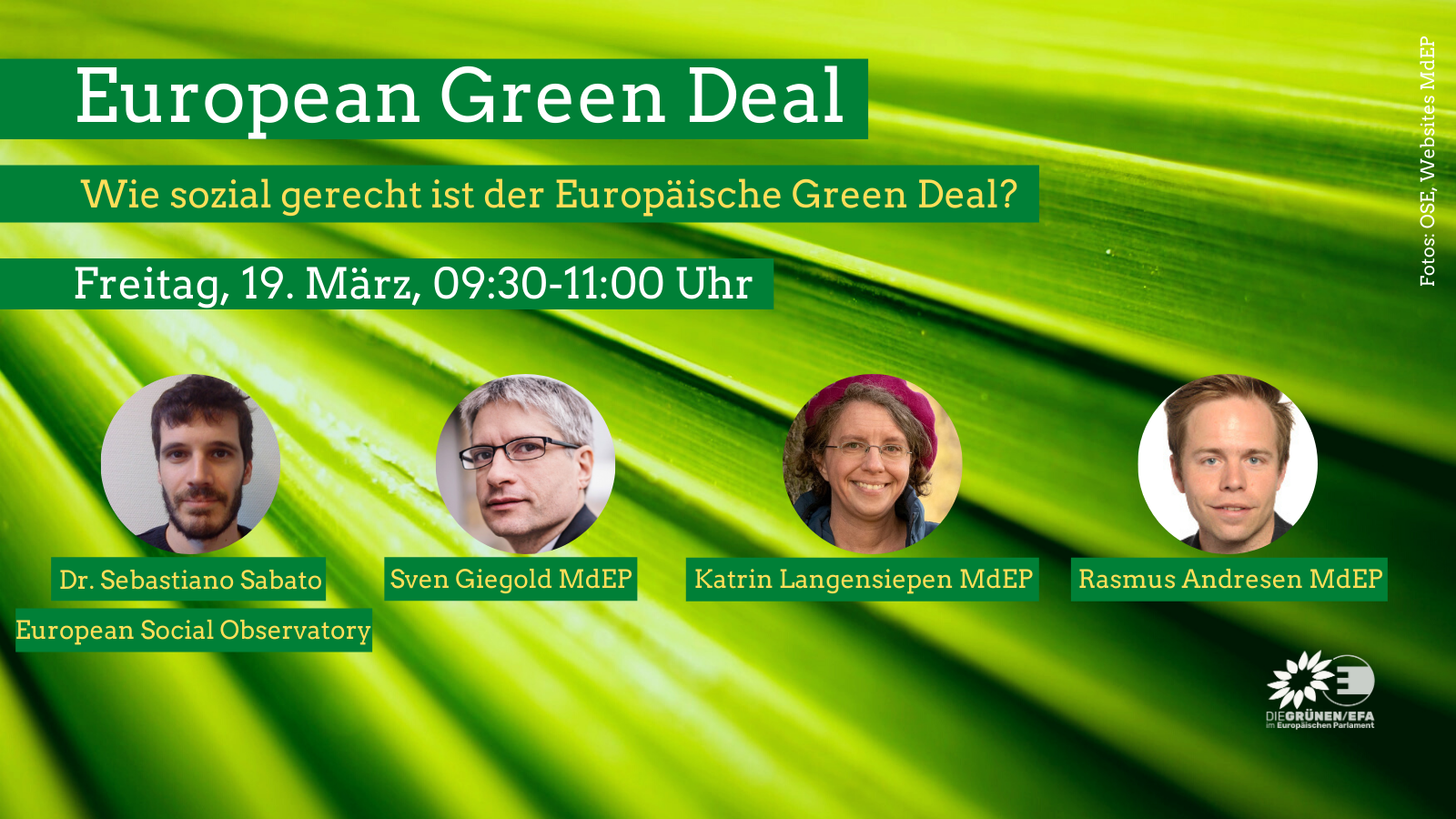 Webinar: "How socially just is the European Green Deal?" on Friday, 19.3.2021 at 9:30 a.m. CET
Never has an ecological and economic transformation of our society been so important as it is today. The Green Deal offers us a unique opportunity to make our economy not only more sustainable, but also more socially just. We mustn't waste this opportunity!
We must invest wisely and with an eye to the future, with a particular focus on regions that are still highly dependent on fossil fuels. Jobs that are lost must be created elsewhere. Employees need support in retraining for green jobs. And for those who cannot initially find a job, reasonable social security systems must be created.
How do we achieve this? What instruments do we need?
We want to discuss these and other questions with Dr. Sebastiano Sabato. He works at the European Social Observatory and co-authored "A socially just transition through the European Green Deal?". In it, he addresses the question of whether the European Green Deal is an appropriate policy framework to combine environmental and economic goals with the pursuit of social justice. Will it ensure a just transition and seize the moment to make our society more socially just?
English and German interpretation will be provided.
With European regards,
Katrin Langensiepen MEP, Rasmus Andresen MEP and Sven Giegold MEP