Please sign the Petition here now!
Dear friends, dear interested,
While the negotiations of the EU's "Fit-for-55" climate package are in progress, a fatal decision is looming. The climate neutrality and sustainability of Europe's energy supply is at stake. Specifically: New nuclear and gas power plants are to be classified as "sustainable investments". This would mean that gas and nuclear energy would be painted green and cash floodgates would be opened for these energy sources. It would send the EU's climate and energy policy on a completely wrong path!
That's why we launched a big petition to EU Commission President von der Leyen and EU Commissioner Timmermans. Sign right here and share the link with others:
www.act.greens-efa.eu/stopgreenwashing
That's what it's about in detail: The European Commission has been working for months on a new EU standard for sustainable investments, the so-called EU taxonomy. This standard will, for example, define which energy sources are considered sustainable. So the taxonomy is a sustainability label. The classification as a sustainable investment has immense consequences: In the future, not only banks, insurance companies and other financial market players will base their investment decisions on this EU standard, but also small investors. And not only that: European and national subsidies and taxpayers' money would also flow into nuclear power and gas if these energy sources were given the sustainability label.
This is very important because Europe currently has to transition its energy supply to climate neutrality. The role of gas and nuclear power is a heated argument among EU member states. Energy sources that are classified as sustainable by the EU will be very popular in the next few years. If an energy source is not part of the EU taxonomy, it will not be banned, but it will be much more difficult to finance it.
The meltdown occurred at the last EU summit on October 22nd: EU Commission chief Ursula von der Leyen announced that she would in a short time present a proposal for the EU sustainability label, which also includes nuclear power and gas. So far she had always spoken out against nuclear and gas in taxonomy. The result: New nuclear power plants and even gas-fired power plants that are not state-of-the-art could hope for a windfall. Investments in nuclear power and gas would therefore get almost the same sustainability label as the construction of wind turbines and solar energy. A meltdown for renewable energies!
The European Commission surrendered at the last EU summit and gave in to the greenwashing of nuclear power. In this way, a decision for gas and nuclear power in the EU taxonomy could now come within a matter of days. It all depends on Ursula von der Leyen's EU Commission and her proposal for sustainability rules. By painting nuclear and gas green, Ursula von der Leyen and her First Vice-President Frans Timmermans would also break the promise of their own "European Green Deal". It would be the first clear change of course on Europe's path to climate neutrality – a departure from actual sustainability and the 1.5 degree target!
Because one thing is clear: nuclear and gas are neither ecologically sustainable nor economically sensible. Already today, electricity from renewables is increasingly cheaper than nuclear and gas. Renewables are becoming cheaper, nuclear and gas more and more expensive (see chart). Those who rely on nuclear and gas now will reap higher electricity costs for private consumers and businesses. Together with the massive environmental and climate damage caused by the extraction of uranium and fossil gas (methane leaks!), it becomes clear: nuclear and gas are neither green nor economically sensible!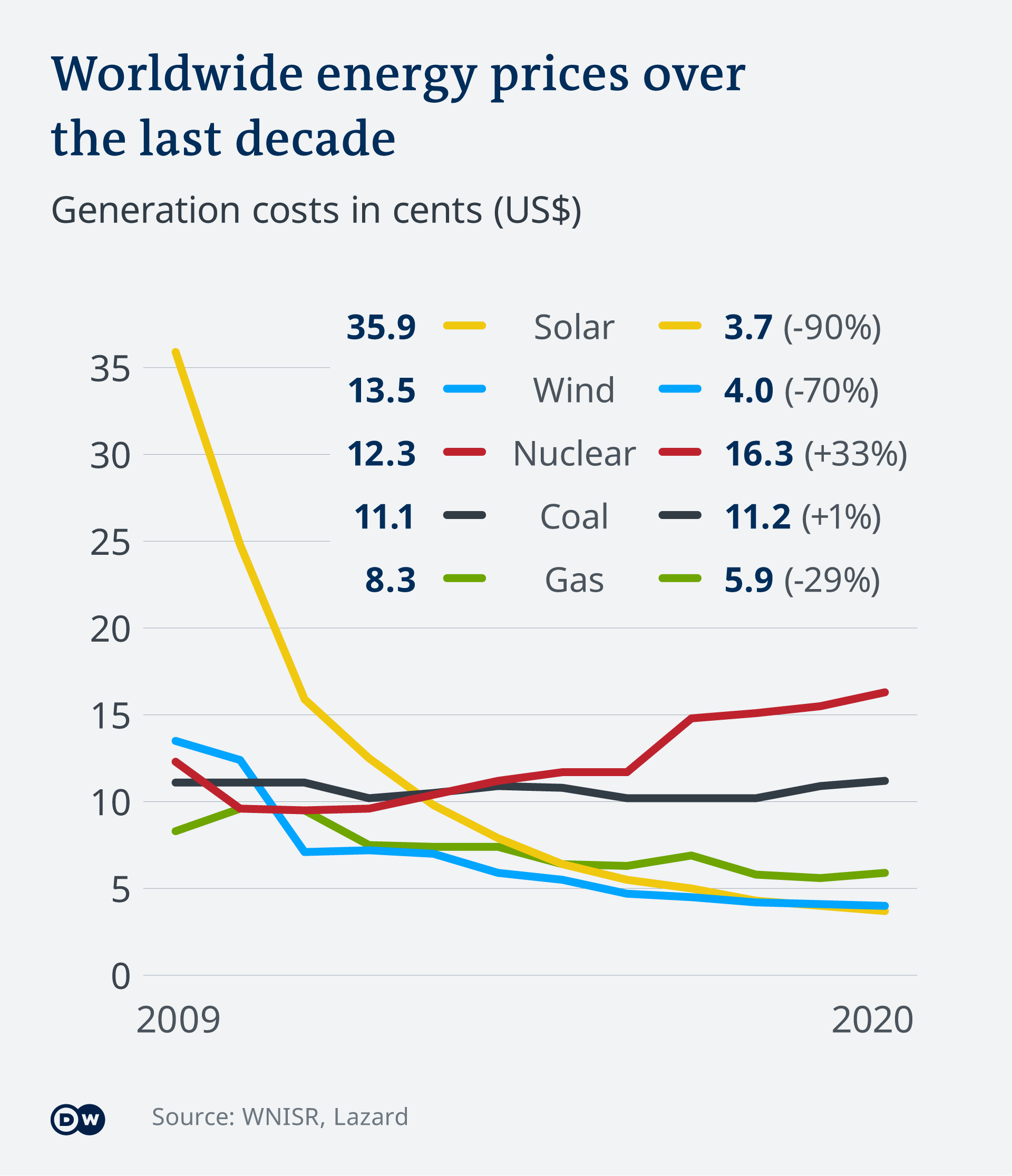 Once the European Commission has presented its proposal, it would need a so-called "qualified majority" among the EU member states to stop the project. That is practically hopeless. So please sign this petition and support the demand to President Ursula von der Leyen and Vice-President Frans Timmermans: The generation of electricity from nuclear power and gas is not sustainable. Nuclear and gas must therefore not be classified as sustainable investments within the framework of the EU taxonomy! 
Therefore, our request to you is: Sign the petition and send a strong signal against the greenwashing of nuclear and gas:
www.act.greens-efa.eu/stopgreenwashing
Together we can still stop these worrying plans.
Thank you and resolute European greetings,
Bas Eickhout MEP and Sven Giegold MEP